1794 50C (Regular Strike)
Series: Flowing Hair Half Dollars 1794-1795
PCGS MS64+
Edge:

Lettered: FIFTY CENTS OR HALF A DOLLAR
Diameter:

32.50 millimeters
Metal:

90% Silver, 10% Copper
Current Auctions - PCGS Graded
Current Auctions - NGC Graded
For Sale Now at
Collectors Corner - PCGS Graded
For Sale Now at
Collectors Corner - NGC Graded
Rarity and Survival Estimates

Learn More
Survival Estimate

All Grades
1,200
60 or Better
5
65 or Better
Numismatic Rarity

All Grades
R-4.9
60 or Better
R-9.7
65 or Better
R-10.1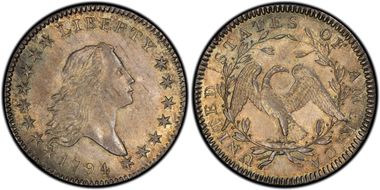 #1 MS64 PCGS grade

F.C.C. Boyd Collection - Numismatic Gallery "World's Greatest Collection" 4/1945:2, $210 - Jimmy Hayes Collection - Stack's 10/1985:50, $55,000 - Stack's 10/1989:693 - RARCOA, sold privately in 3/1993 - Douglas L. Noblet Collection - Bowers & Merena 1/1999:1, $288,500 - D. Brent Pogue Collection - Stack's/Bowers & Sotheby's 5/2015:1095, $763,750
#2 MS63 estimated grade

Reed Hawn Collection - Stack's 8/1973:1 - Queller Family Collection - Stack's 10/2002:1, $195,500
#3 MS62 estimated grade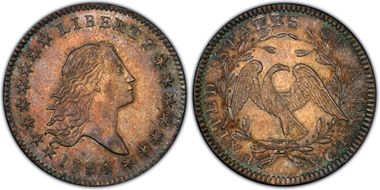 #4 MS61 PCGS grade

Richard B. Winsor Collection - S.H. & H. Chapman 12/1895:598 - John M. Clapp Collection - John H. Clapp Collection, sold intact in 1942 - Louis E. Eliasberg, Sr. Collection - Bowers & Merena 4/7/1997:1660, $77,000 - Dale Friend Collection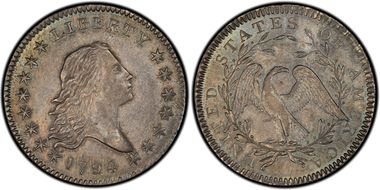 #4 MS61 PCGS grade

Stack's "Empire Collection" 11/1957:1264 - John R. Gregg, Jr. Collection - Stack's 1/2004:3303, $132,250 - American Numismatic Rarities 8/2006:544, $195,500 - Simpson Collection
#6 AU58+ PCGS grade

Cardinal Collection Educational Foundation - Bowers & Merena 8/2010:1004, $189,750
#7 AU58 PCGS grade

Louis E. Eliasberg, Sr. Collection - Bowers & Merena 4/1997:1662, $66,000 - American Numismatic Rarities 8/2006:547, $253,000
#7 AU58 PCGS grade

George H. Earle, Jr. Collection - Henry Chapman 6/1912 - Clarke E. Gilhousen Collection - Superior 10/1973:863, $10,500 - Charles L. Ruby Collection - Superior 2/1975:649 - L.W. Hoffecker Collection - Superior 2/1987:3120, $12,100 - Worrell Collection - Superior 9/1993:1260 - Stack's 3/2007:754, $172,500 - Heritage 8/2007:1675, $204,125 - Bowers & Merena 2/2008:600 - Bowers & Merena 8/2009:1238 - Bowers & Merena 8/2010:508, $175,000 - Dr. Charles Link Collection
#7 AU58 PCGS grade

Dr. Hesselgesser - Goldbergs 2/2007:1423, $218,500
#7 AU58 estimated grade

Overton 101. American Numismatic Rarities 8/2006:544, $195,500
Ron Guth
:
1794 was the first year for of the Half Dollar denomination (for some reason, no pattern Half Dollars were made in 1792 even though the Half Dollar was a part of the official, coinage scheme). The mintage reported for this inaugural year was only 23,464 pieces, which was less than a tenth of the following year. Because this was a high-denomination coin, few "man-on-the-street" types ever saw this coin, assuming they even knew it existed. Thus, very few ended being preserved for future generations.
Of the five Mint State 1794 Half Dollars, the star is the PCGS MS64 from the D. Brent Pogue Collection that sold for $763,750 in 2015. The next best example appears to be the Reed Hawn coin that last sold as part of the Queller Family Collection in 2002 for $195,500. That coin was called Choice Brilliant Uncirculated in 2002 and has not reappeared at auction since then.
Any 1794 half in XF or better is scarce. Most come damaged or in low grade. With only 3 coins in mint state and 3 in AU58 the mystique of this first year issue grows even stronger when you are holding a high grade example in your hands. There are 11 different varieties for the year. The first 7 aren't too difficult to find but the last 4 are either R7 or R8 and nearly impossible to locate. Rumor is that a large hoard of app. 200 exists on the West Coast.
Regency XVI Preview | Legend Rare Coin Auctions | February 18, 2016
(Starts at 6:37)
Regency XX Preview | Legend Rare Coin Auctions | January 26, 2017
(Starts at 9:10)