1799 1C, BN (Regular Strike)
Series: Draped Bust Cents 1796-1807
PCGS MS61BN
Diameter:

28.00 millimeters
Current Auctions - PCGS Graded
Current Auctions - NGC Graded
For Sale Now at
Collectors Corner - PCGS Graded
For Sale Now at
Collectors Corner - NGC Graded
Rarity and Survival Estimates

Learn More
Survival Estimate

All Grades
700
60 or Better
65 or Better
Numismatic Rarity

All Grades
R-5.6
60 or Better
R-10.1
65 or Better
R-10.1
#1 MS61BN PCGS grade

England - A. H. Baldwin - brought to the United States in the late 1920s and traded to Frank H. Shumway - Elmer S. Sears - Wayte Raymond 10/1928 - Henry C. Hines Collection - Dr. William H. Sheldon, 1945 - Harold E. Whiteneck - Numismatic Gallery 8/1947:851 - Harold E. Whiteneck - Dr. James O. Sloss Collection, 9/1958 - R.E. "Ted" Naftzger, Jr. Collection, sold privately on 2/23/1992 - Eric Streiner - Jay Parrino (The Mint), sold privately on 4/1996 - W.M. "Jack" Wadlington Collection, sold privately in 11/2005 (via Bob Grellman and Chris McCawley) - Daniel W. Holmes, Jr. Collection - Goldbergs 9/2009:352, $977,500 - D. Brent Pogue Collection, Part V - Stack's/Bowers & Sotheby's 3/2017:5112, $540,500 - "High Desert" Collection (PCGS Set Registry)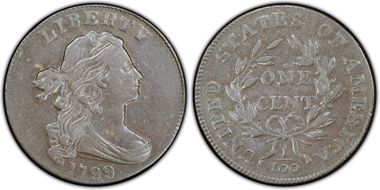 #2 XF45 PCGS grade
#2 XF45 estimated grade

Abbey-Eliasberg
#4 XF40 PCGS grade
#5 VF35 PCGS grade
#5 VF30 PCGS grade
#5 VF30 PCGS grade
#5 VF30 PCGS grade
#5 VF30 PCGS grade
#10 VF25 PCGS grade
Gordon Wrubel: The 1799 is one of the key dates in the large cent series. There are two varieties, the normal date (Sheldon-189) and the overdate, 1799/8 (Sheldon-188). Both are scarce coins in all grades, and extremely rare in grades above EF. There is only one known mint state example of either variety, the 1799 normal date graded MS61 Brown by PCGS that sold in the September, 2009 auction of the Dan Holmes collection for $977,500.
David Hall
:
The year 1799 is a magic year for large cent enthusiasts. There are two varieties, the 1799 'normal date" and the 1799/8 overdate. There is only one known mint state example of this date, the 1799 normal date from the Dan Holmes collection. The coin's previous owners included Ted Naftzger and Dr. William Sheldon.
P. Scott Rubin: The 1799 Large Cent is a pivotal rarity in U.S. coin collecting. In 1857 small copper-nickel flying eagle cents replaced the larger copper cents in general population. This set in motion a coin collecting boom in the United States that did not exist before. People started to put together date sets of the no longer current large cents. It soon became evident that two years were difficult to find, 1799 and 1815. In the case of the 1815 it was because none were made that year and in the case of the 1799 there were just fewer made and they were never saved at the time of issue.

The 1799 Large Cent soon became the most sought after coin new collectors of the 1850-1860's needed to complete their date sets. Prices on these coins rose to the point where they were expensive for the average collector to buy.

The most amazing thing about this date large cent is that during the boom of collecting in the mid to late 19th century no mint state example of this coin was found. It was not until the early 20th century that a mint state example was purchased in England and brought back to the United States in the late 1920's. This coin is graded by PCGS as MS61 Brown it is now valued in the million dollar range. There is also a 1799 over 8 variety issued in 1799 that is rarer than the normal date, this however is not known to exist in Mint State.