1804 1/2C Crosslet 4, Stems, BN (Regular Strike)
Series: Draped Bust Half Cents 1800-1808
PCGS MS65+BN
Diameter:

23.50 millimeters
Current Auctions - PCGS Graded
Current Auctions - NGC Graded
For Sale Now at
Collectors Corner - PCGS Graded
For Sale Now at
Collectors Corner - NGC Graded
Rarity and Survival Estimates

Learn More
Survival Estimate

All Grades
300
60 or Better
40
65 or Better
3
Numismatic Rarity

All Grades
R-6.4
60 or Better
R-8.7
65 or Better
R-9.8
Relative Rarity By Type

All Specs in this Type
All Grades
6 / 18 TIE
60 or Better
6 / 18 TIE
65 or Better
3 / 18 TIE
Relative Rarity By Series

All Specs in this Series
All Grades
6 / 18 TIE
60 or Better
6 / 18 TIE
65 or Better
3 / 18 TIE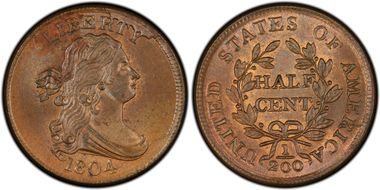 #1 MS65+BN PCGS grade

Jon G. Hanson, sold privately at the 1979 A.N.A. Convention - Missouri Cabinet (Mocab 04.9.4) - Goldbergs 1/2014:71, $28,750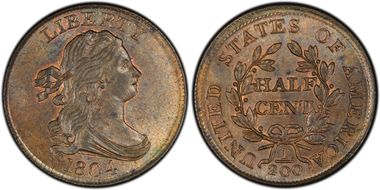 #1 MS65+BN PCGS grade

Stack's, sold privately - Missouri Cabinet (Mocab 04.9.1) - Goldbergs 1/2014:70, $28,750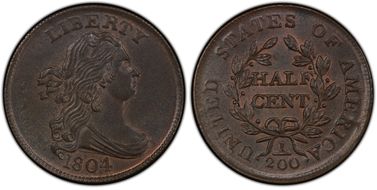 #1 MS65+BN PCGS grade

Cardinal Collection - Legend Numismatics - Red Headed Copper Collection - Heritage 8/2018:5020, $14,400 - Legend Rare Coin Auctions 3/2019:5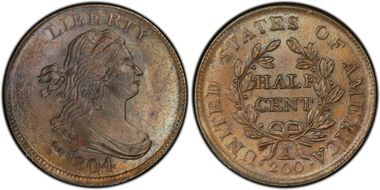 #4 MS65BN PCGS grade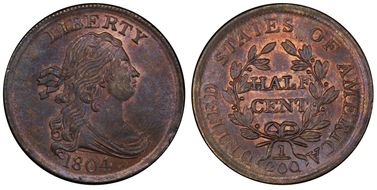 #4 MS65BN PCGS grade

Legend Rare Coin Auctions 5/2017:92, $16,000
#4 MS65BN estimated grade

Aspen Collection - Heritage 7/2008:967, $17,250
#7 MS64+BN PCGS grade

Missouri Cabinet (Mocab 04.10.8) - Goldbergs 1/2014:73, $6,900
#8 MS64BN PCGS grade
#8 MS64BN PCGS grade
#8 MS64BN PCGS grade
Ron Guth
:
The two most obvious differences on 1804 Half Cents relate to the 4 of the date: on some coins the horizontal crossbar of the 4 ends with a vertical crosslet; on others the 4 has no crosslet. The Plain 4 is slightly more common than the Crosslet 4.
Underlying the Crosslet 4 are individual die varieties: Cohen 1 Cohen 2 Cohen 4 Cohen 5 (early state of the Spiked Chin) Cohen 9 Cohen 10 Cohen 12
All of the Spiked Chin varieties are also Crosslet 4's, but the Spiked Chin designation takes precedence.
Collectors should have no difficulty finding circulated examples of the Crosslet 4 Half Cent. Mint State versions are quite scarce, especially in grades above MS-63. Examples with original mint red are exceedingly scarce (most have toned to an olive- or chocolate-brown color) and none are known with full mint red.
Sources and/or recommended reading: "American Half Cents (Second Edition)" by Roger S. Cohen, Jr.