1815/2 50C (Regular Strike)
Series: Capped Bust Half Dollars 1807-1839
PCGS MS66
Edge:

Lettered: FIFTY CENTS OR HALF A DOLLAR
Diameter:

32.50 millimeters
Metal:

89.2% Silver, 10.8% Copper
Current Auctions - PCGS Graded
Current Auctions - NGC Graded
For Sale Now at
Collectors Corner - PCGS Graded
For Sale Now at
Collectors Corner - NGC Graded
Rarity and Survival Estimates

Learn More
Survival Estimate

All Grades
800
60 or Better
12
65 or Better
1
Numismatic Rarity

All Grades
R-5.4
60 or Better
R-9.5
65 or Better
R-10.0
Relative Rarity By Type

All Specs in this Type
All Grades
20 / 72 TIE
60 or Better
6 / 72 TIE
65 or Better
1 / 72 TIE
Relative Rarity By Series

All Specs in this Series
All Grades
21 / 78 TIE
60 or Better
7 / 78 TIE
65 or Better
1 / 78 TIE
#1 MS66 PCGS grade

Kaufman Collection - RARCOA and David W. Akers 8/1991:523 - Heritage, 4/2009:2415, $97,750 - Heritage 8/2012:5143, $182,125 - Dr. Charles Link Collection
#2 MS65+ PCGS grade
#3 MS65 PCGS grade

William F. Dunham Collection - B. Max Mehl 6/1941:700 - Stack's 12/1970:826 - Stack's 5/1975:867 - Stack's March 1982:840 - Reed Hawn Collection - Stack's 10/1993:685 - Chris Napolitano, sold privately - Douglas L. Noblet Collection - Bowers & Merena's Rarities Sale, January 1999:26 - D. Brent Pogue Collection, Part II - Stack's/Bowers & Sotheby's 9/2015:2019, $111,625 - Jim O'Neal Collection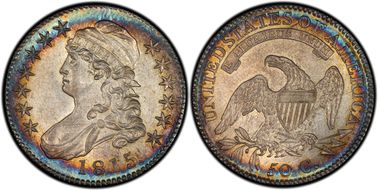 #4 MS64+ PCGS grade

"Colonel" E.H.R. Green - Green Estate - Partnership of Eric P. Newman & B.G. Johnson (St. Louis Stamp & Coin Co.) - Eric P. Newman, who paid $50.00 - Eric P. Newman Numismatic Education Society - Heritage 11/2013:33446, $117,500 - Chicago Collection (PCGS Set Registry)
#4 MS64+ PCGS grade

S.H. & H. Chapman - John M. Clapp Collection - John H. Clapp Collection, sold intact in 1942 - Louis E. Eliasberg, Sr. Collection - Bowers & Merena 4/1997:1733, $37,400 - Harry Laibstain, offered at www.hrlc.com in 8/2016 as PCGS MS64+ CAC) for $117,500 - Mr. Perfection Collection (PCGS Set Registry)
#6 MS64 PCGS grade

Bowers & Merena 7/2003:1437 - Dale Friend Collection
#6 MS64 PCGS grade

Heritage 4/2014:5596, $58,750 - Coins That Look Gem Collection (PCGS Set Registry)
#6 MS64 estimated grade
#6 MS64 estimated grade
#7 MS63 PCGS grade
Ron Guth
:
Quiet times prevailed at the U.S. Mint in Philadelphia in 1815, where only Quarter Dollars, Half Dollars, and Half Eagles were made that year. Mintages dropped precipitously on all three denominations, but especially on the Half Eagle. The Mint produced only 47,150 Half Dollars in 1815, a far cry from the million-plus mintages of previous and subsequent years. This makes the 1815 Half Dollar a standout among the Capped Bust Half Dollars - a rarity that is desired in all grades.
What makes the 1815 Half Dollar even more interesting is that all are overdates, with the 5 of the date punched over a 2. Though only a portion of the underlying 2 is visible, it can be seen even on worn examples.
The PCGS Condition Census consists entirely of Mint State 1815 Half Dollars, starting at MS63 and going up to a single PCGS MS65. Because of the extreme value of pieces in high grade, most collectors are content with circulated example, which can be found with relative ease.
Regency XIII Preview | Legend Rare Coin Auctions | September 3, 2015
(Starts at 5:03)
Regency XX Preview | Legend Rare Coin Auctions | January 26, 2017
(Starts at 9:47)