1838 10C Partial Drapery (Regular Strike)
Series: Liberty Seated Dimes 1837-1891
PCGS MS66+
Designer:

Thomas Sully/Christian Gobrecht
Diameter:

17.90 millimeters
Metal:

90% Silver, 10% Copper
Current Auctions - PCGS Graded
Current Auctions - NGC Graded
For Sale Now at
Collectors Corner - PCGS Graded
For Sale Now at
Collectors Corner - NGC Graded
Rarity and Survival Estimates

Learn More
Survival Estimate

All Grades
200
60 or Better
30
65 or Better
6
Numismatic Rarity

All Grades
R-7.0
60 or Better
R-8.9
65 or Better
R-9.7
Relative Rarity By Series

All Specs in this Series
All Grades
5 / 122 TIE
60 or Better
35 / 122 TIE
65 or Better
36 / 122 TIE
#1 MS67 PCGS grade

Knoxville Collection - Jay Parrino (The Mint), sold privately in 6/2003 - Oliver Jung Collection - American Numismatic Rarities 7/2004:38 - Eugene H. Gardner Collection - Heritage 10/2014:98241, $23,500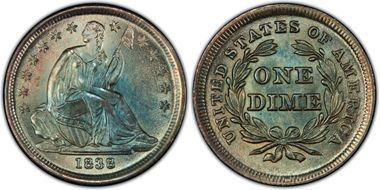 #2 MS66+ PCGS grade
#3 MS66 PCGS grade
#3 MS66 PCGS grade
#3 MS66 estimated grade
#3 MS66 estimated grade
#7 MS65 estimated grade
#7 MS65 estimated grade
#7 MS65 estimated grade
#7 MS65 estimated grade
Ron Guth
:
The term "Partial Drapery" as applied to 1838 Dimes is a mis-nomer. In actuality, there is no drapery whatsoever under Liberty's left elbow (viewer's right). It was not until 1840 that drapery was added to the front of the Dimes, so there is no such thing as drapery that was once there but which was subsequently polished out of the dies. Instead, what one sees is a clashmark from a portion of the E of DIME from the reverse.
This clashmark (or "partial drapery") is seen on only two die varieties of the year: Fortin-108a and Fortin-109.
High grade examples of the 1838 Partial Drapery Dimes are rare and highly prized. The PCGS CoinFacts Condition Census includes coins in grades from MS65 to MS67 (the latter being a single PCGS MS67 from the Eugene Gardner collection).