1840 50C Small Letters (Regular Strike)
Series: Liberty Seated Half Dollars 1839-1891
PCGS MS66+
Designer:

Thomas Sully/Christian Gobrecht
Diameter:

30.00 millimeters
Metal:

90% Silver, 10% Copper
Current Auctions - PCGS Graded
Current Auctions - NGC Graded
For Sale Now at
Collectors Corner - PCGS Graded
For Sale Now at
Collectors Corner - NGC Graded
Rarity and Survival Estimates

Learn More
Survival Estimate

All Grades
1,700
60 or Better
120
65 or Better
15
Numismatic Rarity

All Grades
R-4.7
60 or Better
R-7.8
65 or Better
R-9.3
Relative Rarity By Type

All Specs in this Type
All Grades
59 / 66 TIE
60 or Better
57 / 66 TIE
65 or Better
35 / 66 TIE
Relative Rarity By Series

All Specs in this Series
All Grades
105 / 126 TIE
60 or Better
89 / 126 TIE
65 or Better
63 / 126 TIE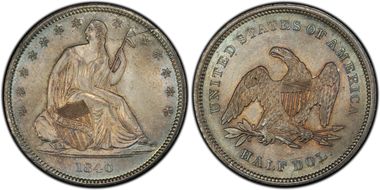 #1 MS66 PCGS grade

Stack's 12/1975:499 - Stack's/Bowers 8/2013:4282, $21,150 - Ray Levoi Collection
#1 MS66 PCGS grade

Stack's/Bowers 11/2012:3141, $25,300 - Eugene H. Gardner Collection, Part II - Heritage 10/2014:98477, $18,800
#1 MS66 PCGS grade
#1 MS66 PCGS grade
#1 MS66 PCGS grade
#1 MS66 PCGS grade
#7 MS65 PCGS grade
#7 MS65 PCGS grade
#7 MS65 PCGS grade
#7 MS65 PCGS grade
Ron Guth
:
In 1840, the Mint produced Half Dollars with two distinctly different reverses. The "correct" version is the so-called Reverse of 1839, which has small letters that were placed into the die well away from the rim. This style was used from 1839 through 1841.
The anomaly for the year is the so-called Reverse of 1838, which has slightly larger letters that are very close to the denticles. Actually, this variety was struck in New Orleans, where none of the reverses bore a mintmark, and where Mint employees engaged in a cost-saving measure by utilizing a die from a previous year.
The 1840 Reverse of 1839 Half Dollar is a fairly plentiful coin, and one which can be found in Mint State with relative ease. In fact, among the Half Dollars from the 1840s, this is the second most common date after the 1843. The finest examples top out at the MS65 level.