1842 $1 (Regular Strike)
Series: Liberty Seated Dollars 1840-1873
PCGS MS64+
Designer:

Christian Gobrecht
Diameter:

38.10 millimeters
Metal:

90% Silver, 10% Copper
Current Auctions - PCGS Graded
Current Auctions - NGC Graded
For Sale Now at
Collectors Corner - PCGS Graded
For Sale Now at
Collectors Corner - NGC Graded
Rarity and Survival Estimates

Learn More
Survival Estimate

All Grades
4,000
60 or Better
160
65 or Better
Numismatic Rarity

All Grades
R-4.2
60 or Better
R-7.4
65 or Better
R-10.1
Relative Rarity By Type

All Specs in this Type
All Grades
26 / 30 TIE
60 or Better
28 / 30
65 or Better
1 / 30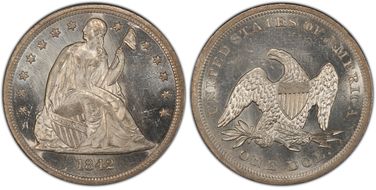 #1 MS64+ PCGS grade

American Numismatic Rarities 6/2005:223, $12,650 - Heritage 9/2016:5566, $19,975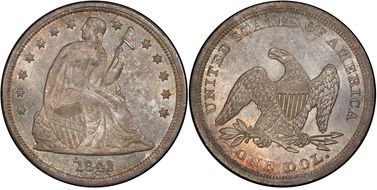 #1 MS64+ PCGS grade

Larry Share (Sunshine) Collection (purchased intact by Legend Numismatics) - Bruce Morelan Collection - D.L. Hansen Collection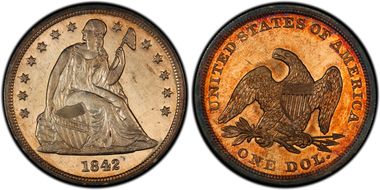 #3 MS64 PCGS grade

Louis E. Eliasberg, Sr. Collection - Bowers & Merena 4/1997:2206, $5,500 - Issiquah Estate Collection (PCGS Set Registry) - Legend Rare Coin Auctions 5/2019:4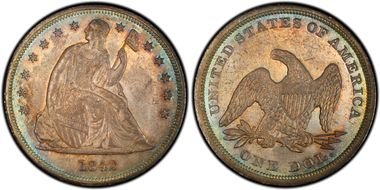 #3 MS64 PCGS grade

American Numismatic Rarities 9/2005:538, $7,763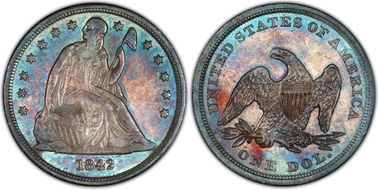 #3 MS64 PCGS grade
#3 MS64 PCGS grade

Monument Hill Collection - Stack's/Bowers 4/2016:13103, $6,462.50
#3 MS64 PCGS grade

Heritage 1/2007:5187, $9,775
#3 MS64 PCGS grade

Heritage 9/2015:4032, $9,400
#3 MS64 PCGS grade

Legend Numismatics, sold privately in 2/2007 - Eugene H. Gardner Collection - Heritage 5/2015:98561, $11,162.50
Q. David Bowers: The following narrative, with minor editing, is from my "Silver Dollars & Trade Dollars of the United States: A Complete Encyclopedia" (Wolfeboro, NH: Bowers and Merena Galleries, Inc., 1993).

Coinage Context

Silver shortage continues: The supply of domestic silver remained small, and the production of silver coins 'was therefore smaller than it otherwise could have been. Unlike 1841 dollars, quantities of which are believed to have been exported in the early 1850s, most 1842 dollars were probably used within the borders of the United States.

The Assay Commission found that the fineness of silver coins (of all denominations as a class) minted at Philadelphia this year was .9009, or very close to .901, significantly (in terms of tolerances accepted at the time) above the legal standard of .900. (Information concerning the Assay Commission was given in the Annual Reports for most years.)

At the time the United States Mint was much more careful on such matters than were most mints of other countries. The finenesses of foreign gold and silver coins, as assayed at the Philadelphia Mint in the 1840s, were apt to vary widely.

Numismatic Information

Circulated grades: Here is one of those numismatic mysteries that make the collecting of Liberty Seated dollars such a fascinating pursuit: circulated 1842 dollars, a date with approximately the same mintage as 1841, are nevertheless nearly four times as commonly found on the market as are 1841s. Examples are plentiful in all grades from Very Fine to AU.

Mint State grades: Examples of the 1842 Liberty Seated dollar are occasionally available in grade levels of MS-60 to MS-63, but in higher grades the issue is a rarity. This is the first Liberty Seated dollar variety that has any claim to general availability in Mint State, but, even so, in absolute terms Mint State specimens are rare.

Varieties

Circulation strikes:

1-2. Normal Date: Breen-5428. At least three obverse dies were used, making the positional varieties known today. One of these dies was used to coin Proofs (described below).

3. Blundered Date: With part of a numeral punched into the base of the rock above the 4 and 2 of date. 2 of date repunched at bottom. One reported specimen had rim cud breaks on the obverse rim. Discovered by David Rubin, 1988. (David Rubin's letter to the editor of The Gobrecht Journal, published July 1988.)

Circulation strike mintage: 184,618; Delivery figures by day: May 31: 11,000; June 30: 16,500; August 31: 5,000; September 30: 52,000; December 31: 100,118.

Estimated quantity melted: Unknown Approximate population MS65 or better: 0 or 1 (URSO)

Characteristics of striking: Usually seen well struck, but there are exceptions (including some lightly struck on stars 4 through 6 on the obverse and lightly struck at the top of the shield and on the eagle's neck on the reverse).

Known hoards of Mint State coins: None

Commentary

In circulated grades this is one of the most plentiful of all Liberty Seated silver dollars.