1844 10C (Regular Strike)
Series: Liberty Seated Dimes 1837-1891
PCGS MS66
Designer:

Robert Ball Hughes/Christian Gobrecht
Diameter:

17.90 millimeters
Metal:

90% Silver, 10% Copper
Current Auctions - PCGS Graded
Current Auctions - NGC Graded
For Sale Now at
Collectors Corner - PCGS Graded
For Sale Now at
Collectors Corner - NGC Graded
Rarity and Survival Estimates

Learn More
Survival Estimate

All Grades
1,000
60 or Better
16
65 or Better
6
Numismatic Rarity

All Grades
R-5.0
60 or Better
R-9.3
65 or Better
R-9.7
Relative Rarity By Type

All Specs in this Type
All Grades
27 / 34 TIE
60 or Better
10 / 34 TIE
65 or Better
16 / 34 TIE
Relative Rarity By Series

All Specs in this Series
All Grades
76 / 122 TIE
60 or Better
18 / 122 TIE
65 or Better
36 / 122 TIE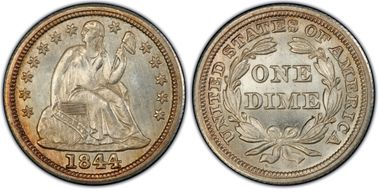 #1 MS66 PCGS grade

Heritage 10/2001:5942, $31,050 - Bob R. Simpson Collection - Legend Rare Coin Auctions 12/2015:133, $47,000 - Heritage 2/2016:3153, $31,725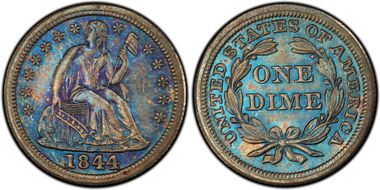 #1 MS65 PCGS grade

Stack's/Bowers 8/2012:11310, $32,900 - Heritage 8/2013:5557, $28,200 - Stack's/Bowers 11/2013:2057, $30,550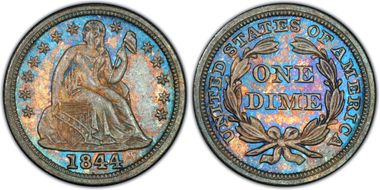 #1 MS65 PCGS grade

Heritage 7/2008:1609, $51,750
#1 MS65 PCGS grade
#1 MS65 PCGS grade
#6 MS64 estimated grade
#7 MS63 PCGS grade
#7 MS63 PCGS grade
#7 MS63 PCGS grade
#7 MS63 estimated grade

Rare Coin Wholesalers, sold privately in 4/2006 - Eugene H. Gardner Collection - Heritage 10/2014:98246, $11,750
Ron Guth
:
The 1844 Dime is one of the most popular dates of the Seated Liberty series, not because it is particularly rare, but because of it's nickname. It was first called the "Little Orphan Annie Dime" in the 1930s by Frank Ross, a collector who hoarded this date and promoted it as a great rarity. In fact, it can be found with relative ease (for a price, of course), especially since a hoard of 612 of 1844 Dimes was sold by Heritage in July 2003, allowing many collectors the opportunity to finally obtain an example.
In top condition, the 1844 Dime is very elusive. A small number of MS63 and MS65 examples are known and the best example is a single PCGS MS66 illustrated above (and formerly from the collection of Bob R. Simpson).
Gerry Fortin has identifed two different die varieties for this year: one for the Proof coinage and another for the regular issue coinage. Interestingly enough, the reverse die used on the regular issue coins was later used again in 1845.