1847/6 50C (Regular Strike)
Series: Liberty Seated Half Dollars 1839-1891
PCGS AU58
Designer:

Thomas Sully/Christian Gobrecht
Diameter:

30.00 millimeters
Metal:

90% Silver, 10% Copper
Current Auctions - PCGS Graded
Current Auctions - NGC Graded
For Sale Now at
Collectors Corner - PCGS Graded
For Sale Now at
Collectors Corner - NGC Graded
Rarity and Survival Estimates

Learn More
Survival Estimate

All Grades
125
60 or Better
4
65 or Better
Numismatic Rarity

All Grades
R-7.7
60 or Better
R-9.8
65 or Better
R-10.1
#1 MS62 PCGS grade
#1 MS62 PCGS grade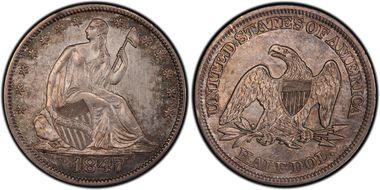 #3 AU58 PCGS grade
#3 AU58 estimated grade

"Colonel" E.H.R. Green Collection - Partnership of Eric P. Newman & Burdette G. Johnson (St. Louis Stamp & Coin Co.) - Eric P. Newman, who paid $25 - Eric P. Newman Numismatic Education Society - Heritage 11/2013:33472, $38,187.50 - Heritage 1/2017:5664, $17,625
#3 AU58 estimated grade

New Netherlands (privately) - Superior's 8/1975:574 - Bowers & Merena 1/1996:129 - Superior 1/1999:196 - Dick Osburn Collection - Stack's/Bowers 8/2011:7028, $43,125 - Heritage 1/2015:4135, $36,425
#6 AU55 PCGS grade
#7 AU50 PCGS grade

Heritage 1/2013:4317, $11,750
#8 XF45 PCGS grade
#8 XF45 PCGS grade
#10 XF40 PCGS grade
P. Scott Rubin: The 1847 over 6 Half Dollar is a rare coin that was under appreciated and under described for many years. Even though this coin has been known to exist since at least the yearly twentieth century it seems a specimen did not show up at auction until 1952. Kagin's 123rd Sale of 1952 contained the first specimen of this variety that I am aware of at auction as lot number 1336.

The reason for this coin being unknown to most collectors would have to be blamed on no photographs of the coin available to the collecting public until the 1950's and no good photographs until maybe a decade or so later. In the 1954 Stack's sale of the Anderson Dupont collection a specimen called a Proof was sold and Stack's description mentions that they did not even believed this variety existed until they saw this coin.

One of the main reasons for this coin to be so confusing is that the under date (1846) is not struck in the same location as the 1847, it is below it and to the left. Also, the 1846 date is not complete and obvious. The bottoms of the 4 and 6 show fairly well on early strike high grade coins along with the left side of the bottom serif of the 1, while the 8 seems not to be there at al.

A recent auction shows that the coin was known and in coin collections at least by the 1930's. The Heritage November, 2013 sale of Eric P. Newman Collection contained and NGC Graded MS(62) coin from the collection of Col. Green, who died in 1930's.

The growth in availability of this variety once its image and description were well known by the numismatic community is shown by the fact that from the first auction appearance of this variety in 1952 until 1972 I am aware of only 6 auction sales, yet I am aware of 34 since 1973 to the present (2014).

It also appears that a die break develops at the bottom of the 1847 date as the die was being used to strike these coins, the Newman, Ex. Col. Green specimen seems to be an early die state with very little evidence of the crack.