1850-O $1 (Regular Strike)
Series: Liberty Seated Dollars 1840-1873
PCGS MS64
Designer:

Christian Gobrecht
Diameter:

38.10 millimeters
Metal:

90% Silver, 10% Copper
Current Auctions - PCGS Graded
Current Auctions - NGC Graded
For Sale Now at
Collectors Corner - PCGS Graded
For Sale Now at
Collectors Corner - NGC Graded
Rarity and Survival Estimates

Learn More
Survival Estimate

All Grades
1,500
60 or Better
20
65 or Better
Numismatic Rarity

All Grades
R-4.8
60 or Better
R-9.1
65 or Better
R-10.1
#1 MS64 PCGS grade

Stack's/Bowers 8/2013:4357, $105,750
#1 MS64 PCGS grade
#1 MS64 PCGS grade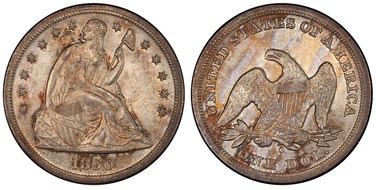 #2 MS63 PCGS grade

Heritage 11/2005:5127 - Alpine Numismatics, sold privately in 10/2008 - Eugene H. Gardner Collection - Heritage 10/2014:98592, $28,200 - Blue Hill Collection - Grand Mamou Collection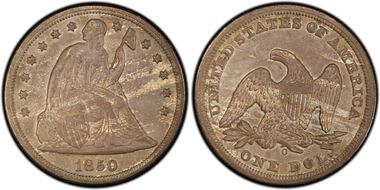 #2 MS63 PCGS grade
#2 MS63 PCGS grade
#2 MS63 PCGS grade
#6 MS63 PCGS grade
#6 MS63 PCGS grade
#6 MS63 PCGS grade
Q. David Bowers: The following narrative, with minor editing, is from my "Silver Dollars & Trade Dollars of the United States: A Complete Encyclopedia" (Wolfeboro, NH: Bowers and Merena Galleries, Inc., 1993).

Coinage Context

Second New Orleans Issue: This is the second New Orleans issue of Liberty Seated silver dollars. 40,000 were struck (compared to only 14,000 1850-O gold dollars). Circulation was intended to be domestic and probably was primarily in the Mississippi Basin. At the time, river trade was burgeoning, and silver coins of all denominations were in strong demand. Walter H. Breen suggests that bullion dealers may have melted many 1850-O silver dollars.

Numismatic Information

Circulated grades: Worn examples of the 1850-O dollar are fairly plentiful today up through and including the Very Fine level. EF pieces are scarce, and AU specimens are fairly rare. The issue has always been popular, due to the 0 mintmark (one of just four Liberty Seated dollar varieties made in New Orleans) and due to the desirability of the 1850 date, some of which aura is transferred from the considerably rarer Philadelphia Mint coins of the same year.

Over the years numismatic opinions have varied widely concerning the 1850-O, with some writers calling it a great rarity in any and all grades.

Mint State grades: If you want a Mint State 1850-O dollar for your collection, I suggest that you compromise and acquire an EF or AU instead, at least as an interim strategy, for it may be years, if ever, until you can buy a nice Mint State coin. Examples are few and far between.

The Lorich study: Bruce Lorich, in The Gobrecht Journal; March 1979, noted that he had reviewed 100 years of auction appearances and concluded that Uncirculated 1850-O dollars appeared at auction less often than did 1844, 1848, 1851, 1852, 1859-S, 1870-CC, 1872-CC, 1872-S, and 1873-CC in the same grade. "In fact, in Uncirculated condition only four Liberty Seated dollar issues (out of the total of 45 struck) appeared at auction in my study, less often than the 1850-O. These were 1855, 1870-S, 1871-CC, and the non-existent 1873-S."

Lorich found three times as many Uncirculated 1846-O dollars (themselves rare) as 1850-Os, nine times as many Uncirculated 1859-O dollars, and eight times as many Uncirculated 1860-Os. Most of the auctions consulted occurred before the government released its silver dollar hoard in the early 1960s, meaning that 1859-O and 1860-O were relatively common in Mint State even before that time.
Varieties

Circulation strikes:

1. Closed 5: Breen-5444. Apparently struck from one obverse die, or possibly two, and reverse(s) already on hand. Walter H. Breen describes the progression of the standard variety: "Early impressions (reverse of 1846) show repunching on mintmark; this fades, while obverse develops cracks through stars, reverse later rusts."

Circulation strike mintage: 40,000; Delivery figures by month: July: 37,000; August: 3,000.

Estimated quantity melted: Unknown

Characteristics of striking: Average strike for most; some have weakness on Miss Liberty's head and/ or on the eagle's head and claws.

Known hoards of Mint State coins: None

Commentary

This is a popular variety which has commanded the attention of a number of students of the Liberty Seated series over the years.

Additional Information

What Might Have Been

Four obverse dies were shipped to New Orleans in 1851, and two in 1852, but apparently none was used (also see Additional Information under the 1846-O dollar).

Gold Coinage at New Orleans

"The Mint in this city is now in full operation, turning out double eagles with such rapidity, that they will soon work up the immense heap of 'the root of all evil,' which was so long locked up in its vaults, to the great inconvenience of many parties. As a small piece requires as much time to coin as a larger one, the plan adopted by the Mint is judicious, of applying their force to the double eagle, as it will enable them to work up the accumulated stock of gold in a very short period. Our California friends may continue to forward their gold to this city, as it can now be coined here with the greatest promptness." From the New Orleans Bulletin, June 1850.