1854 $3 (Regular Strike)
Series: Indian Princess $3 1854-1889
PCGS MS68
Designer:

James Barton Longacre
Diameter:

20.50 millimeters
Metal:

90% Gold, 10% Copper
Current Auctions - PCGS Graded
Current Auctions - NGC Graded
For Sale Now at
Collectors Corner - PCGS Graded
For Sale Now at
Collectors Corner - NGC Graded
Rarity and Survival Estimates

Learn More
Survival Estimate

All Grades
10,000
60 or Better
3,000
65 or Better
30
Numismatic Rarity

All Grades
R-3.0
60 or Better
R-4.4
65 or Better
R-8.9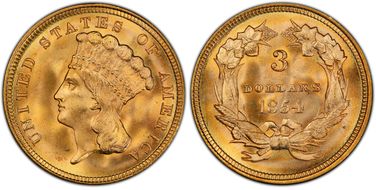 #1 MS68 PCGS grade

Sotheby's 11/1999:74 - Heritage 6/2004:6219, $112,125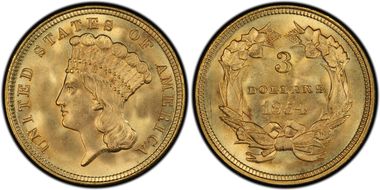 #2 MS67+ PCGS grade

Great Lakes Collection - Larry Hanks, sold privately as an entire collection on 10/2005 - D. Brent Pogue Collection - Stack's/Bowers 2/2016:3089, $64,625
#2 MS67 PCGS grade
#4 MS66+ PCGS grade

Hansin Collection 1800/1899 19th Century Type Set
#5 MS66 PCGS grade
#5 MS66 PCGS grade
#5 MS66 PCGS grade
#5 MS66 PCGS grade
#5 MS66 PCGS grade
#5 MS66 PCGS grade
Ron Guth
:
I'm shocked -- shocked I say -- that David Akers called this an "unecessary" denomination. How else were people expected to purchase a hundred Three Cent stamps in 1854? Yes, it was an unusual denomination, but collectors today are certainly glad they were made.
Akers was correct that this is the second most comon date of the series. The 1878 $3 is the big winner and the 1874 is a distant third, with all other dates way back in the pack. Hundreds of Mint State 1854 $3's exist, mostly in MS62 followed by MS63, then MS64. Gems make up only a small percentage of the Mint State population and anything above MS65 is extremely rare. The best example is a PCGS MS68 that sold in a 2004 Heritage sale for $112,125.
David Akers (1975/88): The 1854 is the first year of issue for this unusual and unnecessary denomination and actually it is a distinctly different type from subsequent years because the word DOLLARS on the reverse is much smaller (about half the size) than on issues from 1855 to 1889. This is the second most common date in the series from the standpoint of total number of appearances although a number of dates have appeared more often in strictly uncirculated condition. However, choice BU specimens of the 1854 are certainly available with considerable regularity.