1864 $1 (Proof)
Series: Liberty Seated Dollars 1836-1873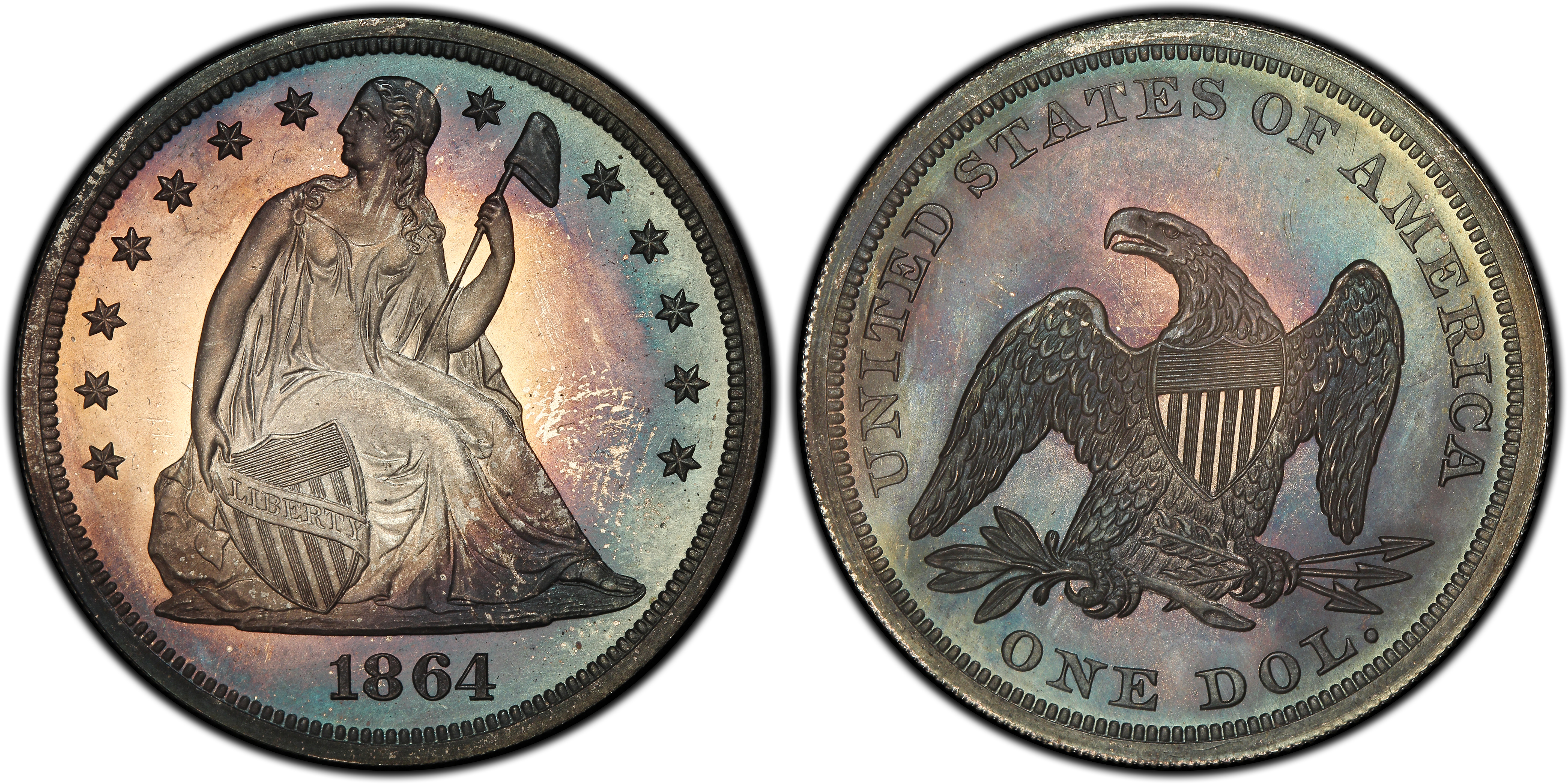 PCGS PR66+
Designer:

Christian Gobrecht
Diameter:

38.10 millimeters
Metal:

90% Silver, 10% Copper
Current Auctions - PCGS Graded
Current Auctions - NGC Graded
For Sale Now at
Collectors Corner - PCGS Graded
For Sale Now at
Collectors Corner - NGC Graded
Rarity and Survival Estimates

Learn More
Survival Estimate

All Grades
425
60 or Better
400
65 or Better
40
Numismatic Rarity

All Grades
R-6.1
60 or Better
R-6.2
65 or Better
R-8.7
Relative Rarity By Type

All Specs in this Type
All Grades
21 / 27 TIE
60 or Better
21 / 27 TIE
65 or Better
25 / 27 TIE
Relative Rarity By Series

All Specs in this Series
All Grades
23 / 38 TIE
60 or Better
24 / 38 TIE
65 or Better
28 / 38 TIE
#1 PR67 PCGS grade
#2 PR67 estimated grade

American Numismatic Rarities 7/2003:574, sold as part of a seven-piece Proof Set (Lot 578) which realized $163,300 - Heritage 1/2013:5731, not sold - Heritage 4/2031:4346, $52,875
#2 PR67 estimated grade
#2 PR67 estimated grade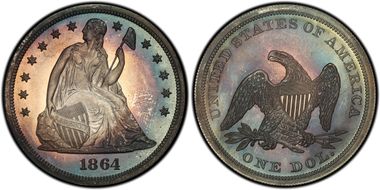 #5 PR66+ PCGS grade
#6 PR66 PCGS grade

Stack's/Bowers 3/2013:2083, $34,075
#6 PR66 PCGS grade
#8 PR65+ PCGS grade

Bob R. Simpson Collection
#9 PR65 PCGS grade
#9 PR65 PCGS grade
Ron Guth:
The 1864 Seated Liberty Silver Dollar is very scarce in Proof condition. The mintage of regular issue coins during this Civil War year was only 30,700, so collectors put a lot of price pressure on this date because a Proof 1864 Dollar is often easier (and less expensive) to find than is a nice Mint State example.
The survival rate of Proofs of this date seems fairly high or, at least, those that survive are in nice condition. The PCGS Condition Census is filled with PR65 or better examples, and the best is a single PCGS PR67.
Cameo Proofs represent about 30% of the population at present, but that percentage is expected to increase in time as older submissions are reevaluated (PCGS did not recognize Cameo and Deep Cameo designations until years after they began certifying coins). Deep Cameo 1864 Silver Dollars are non-existent at present.