1867-S 50C (Regular Strike)
Series: Liberty Seated Half Dollars 1839-1891
PCGS MS66
Designer:

Thomas Sully/Christian Gobrecht
Diameter:

30.00 millimeters
Metal:

90% Silver, 10% Copper
Current Auctions - PCGS Graded
Current Auctions - NGC Graded
For Sale Now at
Collectors Corner - PCGS Graded
For Sale Now at
Collectors Corner - NGC Graded
Rarity and Survival Estimates

Learn More
Survival Estimate

All Grades
600
60 or Better
35
65 or Better
1
Numismatic Rarity

All Grades
R-5.8
60 or Better
R-8.8
65 or Better
R-10.0
Relative Rarity By Type

All Specs in this Type
All Grades
16 / 45 TIE
60 or Better
12 / 45
65 or Better
1 / 45
Relative Rarity By Series

All Specs in this Series
All Grades
48 / 126 TIE
60 or Better
37 / 126 TIE
65 or Better
1 / 126 TIE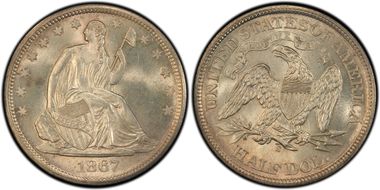 #1 MS66 PCGS grade

Henry Blair Collection - Charles Steigerwalt 10/1896 - J.M. Clapp Collection - John H. Clapp Collection (sold intact in 1942) - Louis E. Eliasberg, Sr. Collection - Bowers & Merena 4/1997:2006, $8,250 - Bowers & Merena 11/2001:4142, $10,350 - Heritage 5/2004:7438, $23,000 - Eugene H. Gardner Collection - Heritage 10/2014:98507, $19,975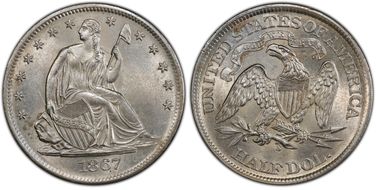 #2 MS64 PCGS grade
#2 MS64 PCGS grade
#2 MS64 PCGS grade
#2 MS64 PCGS grade
#2 MS64 estimated grade
#2 MS64 estimated grade
#2 MS64 estimated grade
#2 MS64 estimated grade
#2 MS64 estimated grade
Ron Guth
:
The 1867-S Half Dollar is fairly common in most grades up to Mint State, then it becomes quite scarce up to MS63. In MS64 and better grades, the 1867-S is a true rarity. There is, however, one standout -- the PCGS MS66 Eliasberg-Gardner coin that sold recently (2014) for $19,975 - this coin is a full two pints above any other 1867-S Half Dollar certified by PCGS.
The mintmarks on this date are all minute, though one appears larger because it has been repunched.
The strike on 1867-S Half Dollars is usually soft on the obverse stars, though there are some examples that show better strikes than others.