1870-S $1 (Regular Strike)
Series: Liberty Seated Dollars 1840-1873
PCGS MS62
PCGS AU58
Estimated grade VF35
Image courtesy of Heritage Numismatic Auctions
Designer:

Christian Gobrecht
Diameter:

38.10 millimeters
Metal:

90% Silver, 10% Copper
Current Auctions - PCGS Graded
Current Auctions - NGC Graded
For Sale Now at
Collectors Corner - PCGS Graded
For Sale Now at
Collectors Corner - NGC Graded
Rarity and Survival Estimates

Learn More
Survival Estimate

All Grades
12
60 or Better
1
65 or Better
Numismatic Rarity

All Grades
R-9.5
60 or Better
R-10.0
65 or Better
R-10.1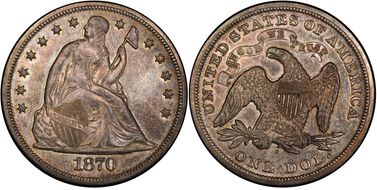 #1 MS62 PCGS grade

Probably Colonel E.H.R. Green - Morton and Joseph Stack - James A. Stack in 1944 - Stack's, 3/1995:212, $462,000 - L.K. Rudolph Collection - Stack's 5/2003:2136, $1,092,500 - Legend Collection of Mint State Seated Liberty Dollars
#2 AU58 PCGS grade

H.O. Granberg Collection (ANS 1914 Exhibition Coin) - Waldo C. Newcomer Collection (cost $800) - B. Max Mehl - William H. Woodin Collection - Col. E.H.R. Green - B.G. Johnson - Stack's "Anderson-Dupont" 11/1954:2551, $4,000 - Art Kagin - Norweb Collection - Bowers & Merena 11/1988:3825, $126,500 - Jim Jesson Collection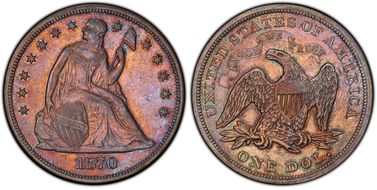 #3 AU53 PCGS grade

George Hall - Will Neil - Eliasberg - Stanford Coin - John Albanese
#4 AU50 estimated grade
#5 XF45 estimated grade
#6 XF40 PCGS grade

Compton collection, sold by M. H. Bolender - M. H. Bolender (purchased from his own sale) - Mr. and Mrs. Alfred J. Ostheimer III - Lester Merkin 9/1998:372 apparently bought in - Superior "Gilhousen" 10/1973:1339 - Superior 8/1975:1125 - Julian M. Leidman - House of Stuart (Gary Sturtridge) - Bowers & Ruddy 8/1978:1160 - James E. Pohrer - Kagin's 8/1983:2707 - Leon Hendrickson and Sal Fusco - advertised for sale by Phoenix Rare Coin Galleries in 7/1992 - Richmond Collection - David Lawrence 11/2004:1497, $414,000 - Jack Lee Collection - Heritage 11/2005:2226 - Joseph C. Thomas Collection - Heritage 4/2009:2581, $503,125 - Bowers & Merena 8/2010:1089, $632,500 - Usibelli Collection - Heritage 1/2014:5295, $763,750 - Eugene H. Gardner Collection - Heritage 5/2015:98571, $505,250
#7 VF30 estimated grade

Matthew Stickney, sold privately, likely to Colonel E.H.R. Green - James Kelly - Jack V. Roe - James Kelly - Clint Hestor or Charles M. Williams - Numismatic Gallery 11/1950:2181 - Abe Kosoff FPL 1955 - Fairbanks Collection of Ben Koenig - Stack's 10/1960:617 - Samuel Wolfson Collection - Stack's 5/1963:1431 - R.L. Miles, Jr. Collection - Stack's 4/1969:1612, $19,000 - Stack's 9/1978:345, $39,000 - Queller Family Collection - Heritage 4/2008:2129, $805,000 - Heritage 1/2015:4173, $470,000
#8 VF25 PCGS grade

Norman Schultz 12/1935:1302 - B. Max Mehl - Egyptian King Farouk Collection - Sotheby's "Palace Collection" 2/1954:1676 - Arthur Conn and Harold Whiteneck's 1960:1168 - Kreisberg - Schulman 4/1967:1253 - Stack's 3/1987:1203 - Stack's 10/2007:5294, $552,000 - Stack's/Bowers 3/2008:2035, $705,698
#9 G06 estimated grade

Tooled and re-engraved, Ex-Boyd - Bowers & Merena 11/2009:3086
David Hall
:
The 1870-S Liberty Seated dollar is one of the most famous U.S. coin rarities. There are just 12 known survivors in all grades. The finest known, and the only mint state survivor, is the PCGS graded MS62 Col Green-James A. Stack-Legend collection specimen.
P. Scott Rubin: The 1870-S Silver Dollar is one of the rarest of all silver dollars, with less than a dozen examples known or believed to exist. This is a coin that was not publicly seen until H.O. Granberg displayed his coin at the 1914 American Numismatic Society Exhibition some forty four years after its issue. The first auction appearance of this coin was in a 1926 Hesslein auction where the example offered was graded Fine with initials cut into the coin. At the next auction appearance of this same coin the initials had been removed.

No official mint record was made about a number of 1870-S denominations, which are known today. The silver dollar and the unique half dime and the unique three dollar gold piece all fall into this group. There still is the strong possibility that the quarter of this issue was produced but is still not known to exist, but it should be noted that the half dime was not known to exist until 1978.

The James A. Stack specimen of the 1870-S Silver Dollar, a mint state 62 example, sold in 2003 by Stack's for $1,092,500. This is the only verified coin in Uncirculated condition. Any 1870-S Silver Dollar no matter what its condition would likely bring six figures while the next time the finest known example is offered for sale it is likely to bring close to a middle seven figure dollar amount.

Ron Guth
:
The 1870-S Silver Dollar is one of the most mysterious of all United States coins. It is one of the few instances where the Mint records give no indication that any were produced at all. Yet there are roughly a dozen examples whose very existence contradicts the official records. Most of the known examples are worn, indicating that mint employees produced a small run, and then placed the coins in circulation. Unfortunately, absent any direct evidence, no one can prove how many were made. However, the point is moot because the collector who seeks to complete a set of Silver Dollars has only the survivors from which to choose. In the case of the 1870-S Silver Dollar, the choices are few and far between.
1870-S Silver Dollars appear on the market an average of once every two years, but there have been periods as long as six years (for instance 1997-2003) when collectors have had zero opportunities to purchase an example.
In 2003, the finest known 1870-S Silver Dollar sold for over one million dollars and every example since then, with the exception of a damaged piece has brought close to or over half a million dollars.