Designer:

James Barton Longacre
Diameter:

34.00 millimeters
Metal:

90% Gold, 10% Copper
Current Auctions - PCGS Graded
Current Auctions - NGC Graded
For Sale Now at
Collectors Corner - PCGS Graded
For Sale Now at
Collectors Corner - NGC Graded
Rarity and Survival Estimates

Learn More
Survival Estimate

All Grades
215
60 or Better
2
65 or Better
Numismatic Rarity

All Grades
R-6.8
60 or Better
R-9.9
65 or Better
R-10.1
Relative Rarity By Series

All Specs in this Series
All Grades
16 / 148 TIE
60 or Better
4 / 148 TIE
65 or Better
1 / 148
#1 MS63 estimated grade

Ed Shapiro, sold privately in 1978 - Superior 1/1988:4414 - David Akers "Auction '88" 7/1988:977 - Universal Coin and Bullion, sold privately in 2000 - Bowers & Merena 6/2002:2372, not sold - Heritage 8/2004:7586, $230,000 - Heritage 4/2008:2500, $414,000 - Rusty Goe, sold privately in 4/2008 - Battle Born Collection - Stack's/Bowers 8/2012:11040, $329,000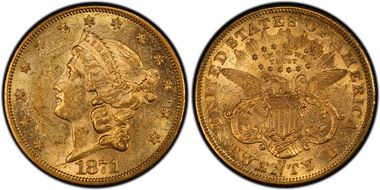 #2 MS60 PCGS grade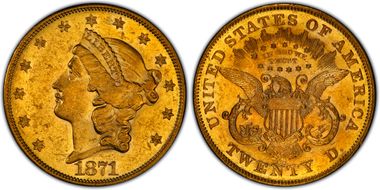 #3 AU58 PCGS grade

AWA Collection - D.L. Hansen Collection
#3 AU58 estimated grade

Duquesne Collection - Heritage 8/2015:4471, $111,625
#3 AU58 estimated grade
#3 AU58 estimated grade
#3 AU58 estimated grade
#8 AU55 PCGS grade
#8 AU55 PCGS grade
#8 AU55 PCGS grade
Ron Guth
:
The 1871-CC $20 is decidedly rare and it ranks as one of the most popular dates in the series. Among the Carson City $20's, it is second only to the legendary 1870-CC. Collectors will have a tough time finding an 1871-CC $20 in AU or better conditions. In Mint State, the 1871-CC is exceedingly rare. Of the three MInt State examples certified thus far (November 2018), the finest is the NGC MS64 from the former Battle Born Collection. That coin exceeds the next best example by a full four points.
David Akers (1975/88)
:
After the famous 1870-CC, the 1871-CC is the rarest Double Eagle from the Carson City Mint. Compared to all other twenties, the 1871-CC ranks in the top 15% of the series in overall rarity and it is tied for first place in rarity according to average grade. Few dates in the series come generally worse than the 1871-CC. The 1871-CC is like the 1870-CC in that respect. Max Humbert tells me that in the 1960's when he was regularly receiving rare gold coins from Europe via Paul Wittlin, he handled a borderline Unc. 1871-CC.That coin is by far the finest I have heard of and it may well be the finest known.