1872 3CS (Regular Strike)
Series: Star Three Cent Silvers 1851-1872
PCGS MS68
Designer:

James Barton Longacre
Diameter:

14.30 millimeters
Metal:

90% Silver, 10% Copper
Current Auctions - PCGS Graded
Current Auctions - NGC Graded
For Sale Now at
Collectors Corner - PCGS Graded
For Sale Now at
Collectors Corner - NGC Graded
Rarity and Survival Estimates

Learn More
Survival Estimate

All Grades
100
60 or Better
40
65 or Better
12
Numismatic Rarity

All Grades
R-8.0
60 or Better
R-8.7
65 or Better
R-9.5
#1 MS67+ PCGS grade

Bob R. Simpson Collection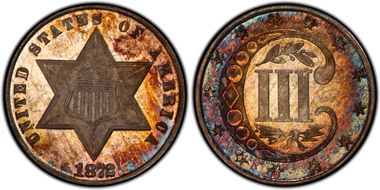 #2 MS67 PCGS grade

Legend Rare Coin Auctions 2/2015:47, $27,025 - Heritage 8/2015:3955, $14,100 - Heritage 4/2016:4550, $25,850
#2 MS67 PCGS grade

Heritage 2/2015:3029, $54,050 - Legend Rare Coin Auctions 2/2016:75, not sold
#4 MS66 PCGS grade
#4 MS66 PCGS grade
#4 MS66 PCGS grade
#4 MS66 PCGS grade
#4 MS66 estimated grade
#9 MS65+ PCGS grade
#10 MS65 PCGS grade

Rev. Dr. James G. K. McClure Collection - Heritage 6/2016:4304, $9,106 - Stack's/Bowers 10/2018:2044, $10,200 - Legend Rare Coin Auctions 3/2019:56
Ron Guth
:
The 1872 Three Cent Silver was the last date made for circulation, and it has the lowest mintage of any date in the entire series. This makes it very popular with date collectors, but the demand for this date also makes it pricey. Expect to find semi-Prooflike, well-struck examples.
This date has more survivors than some of the other dates, and enough Mint State examples survive to indicate that collectors put them aside as the last-year-of-issue souvenirs.
The finest example is the PCGS MS67+ featured above (and now residing in the Simpson Collection).