1872-CC 50C (Regular Strike)
Series: Liberty Seated Half Dollars 1839-1891
PCGS MS63
Designer:

Thomas Sully/Christian Gobrecht
Diameter:

30.00 millimeters
Metal:

90% Silver, 10% Copper
Current Auctions - PCGS Graded
Current Auctions - NGC Graded
For Sale Now at
Collectors Corner - PCGS Graded
For Sale Now at
Collectors Corner - NGC Graded
Rarity and Survival Estimates

Learn More
Survival Estimate

All Grades
250
60 or Better
6
65 or Better
Numismatic Rarity

All Grades
R-6.6
60 or Better
R-9.7
65 or Better
R-10.1
Relative Rarity By Series

All Specs in this Series
All Grades
16 / 126 TIE
60 or Better
11 / 126 TIE
65 or Better
1 / 126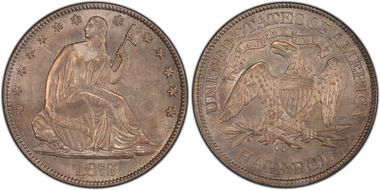 #1 MS63 PCGS grade

Superior 5/2001:3533, $23,000 - Battle Born Collection - Stack's/Bowers 8/2012:11083, $54,625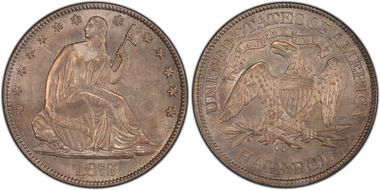 #1 MS63 PCGS grade

Major William Boerum Wetmore Collection - S.H. & H. Chapman 6/1906:369 - John M. Clapp Collection - John H. Clapp Collection, sold intact in 1942 - Louis E. Eliasberg, Sr. Collection - Bowers & Merena 4/1997:2019, $27,500 - Douglas L. Noblet Collection - Bowers & Merena 1/1999:163, $26,450 - Heritage 8/1999:6289 - American Numismatic Rarities 1/2005:580, $39,100 - Eugene H. Gardner Collection - Heritage 6/2014:30514, $57,281.25

In the Eliasberg catalog, the 1872-CC Half Dollar (Lot 2019) was attributed to the Harlan P. Smith Collection, sold by S.H. & H. Chapman in 5/1906, however, the named and priced H.P. Smith catalog on the Newman Portal shows no 1872-CC Half Dollars
#3 MS62 PCGS grade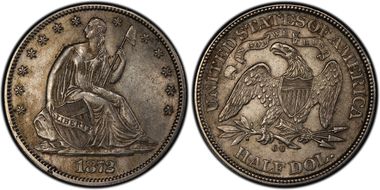 #4 MS61 PCGS grade
#5 AU58 PCGS grade
#5 AU58 PCGS grade
#5 AU58 PCGS grade
#5 AU58 estimated grade

Dick Osburn Collection -
Stack's/Bowers 8/2011:7107, $19,550
#10 AU55 PCGS grade

Heritage 12/2010:3682, $6,325
#45 AU58 PCGS grade
Ron Guth
:
The 1872-CC Half Dollar is a popular date because of a low mintage (257,000 coins) and the always-desirable "CC" mintmark. Most of this date went into circulation, with few examples saved by collectors. The very few Mint State examples that have survived are at the low end of the scale (MS61 to MS63).
According to Bill Bugert, nine distinct die varieties comprise the entire mintage for this datre. Interestingly, the reverse dies used to strike all of these varieties were from previous years, despite the fact that three fresh reverse dies came in from Philadelphia in 1872.
The strike quality of this date is generally good. Luster ranges from frosty to Prooflike.