1872-S 10C (Regular Strike)
Series: Liberty Seated Dimes 1837-1891
PCGS MS65
Designer:

James Barton Longacre
Diameter:

17.90 millimeters
Metal:

90% Silver, 10% Copper
Current Auctions - PCGS Graded
Current Auctions - NGC Graded
For Sale Now at
Collectors Corner - PCGS Graded
For Sale Now at
Collectors Corner - NGC Graded
Rarity and Survival Estimates

Learn More
Survival Estimate

All Grades
250
60 or Better
25
65 or Better
2
Numismatic Rarity

All Grades
R-6.6
60 or Better
R-9.0
65 or Better
R-9.9
Relative Rarity By Type

All Specs in this Type
All Grades
4 / 67 TIE
60 or Better
13 / 67 TIE
65 or Better
6 / 67 TIE
Relative Rarity By Series

All Specs in this Series
All Grades
11 / 122 TIE
60 or Better
27 / 122 TIE
65 or Better
18 / 122 TIE
#1 MS65 PCGS grade

Louis E. Eliasberg, Sr. Collection - Bowers & Merena 5/1996:1196, $7,700 - Heritage 10/2001:5986 - Eugene H. Gardner Collection - Heritage 5/2015:98246, $28,200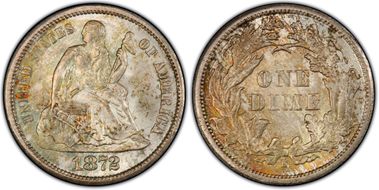 #1 MS65 PCGS grade

Bob Simpson Collection of Seated Dimes - Heritage 9/2010:3683, $34,500
#3 MS64 PCGS grade
#3 MS64 PCGS grade
#3 MS64 PCGS grade
#3 MS64 PCGS grade
#3 MS64 PCGS grade
#3 MS64 PCGS grade
#9 MS63 PCGS grade
#10 MS62 PCGS grade
Ron Guth
:
In 1872, employees at the San Fancisco Mint made 190,000 Dimes. All were struck by the same pair of dies, thus there is only one variety known for the year. Based on population and census reports, approximately two dozen Mint State examples are known, mostly in grades from MS63 to MS64. Gems are extremely rare and include only two at the PCGS MS65 level (one from the Eliasberg and Gardner collections, and one in the Simpson collection).
Most examples of this date are well-struck. If any weakness occurs, it is in the area left of the knot at the base of the wreath.
The price record for this date is $34,500.