1873-CC $1 Seated (Regular Strike)
Series: Liberty Seated Dollars 1840-1873
PCGS MS65
Designer:

Christian Gobrecht
Diameter:

38.10 millimeters
Metal:

90% Silver, 10% Copper
Current Auctions - PCGS Graded
Current Auctions - NGC Graded
For Sale Now at
Collectors Corner - PCGS Graded
For Sale Now at
Collectors Corner - NGC Graded
Rarity and Survival Estimates

Learn More
Survival Estimate

All Grades
200
60 or Better
5
65 or Better
1
Numismatic Rarity

All Grades
R-7.0
60 or Better
R-9.7
65 or Better
R-10.0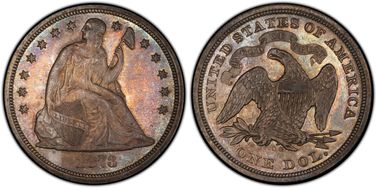 #1 MS65 PCGS grade

Share (Sunshine) Collection (purchased intact by Legend Numismatics) - Bruce Morelan Collection - D.L. Hansen Collection
#2 MS61 PCGS grade
#3 MS60 PCGS grade
#4 AU58 PCGS grade

Waldo E. "Pat" Bolen, Jr. - Heritage - Legend Numismatics - Rusty Goe, 1/2004 - Battle Born Collection - Stack's/Bowers 8/2012:11080, $63,250
#4 AU58 PCGS grade
#4 AU58 estimated grade

Numismatic Gallery 2/1950:164 - Stack's 10/1981:431 - Stack's 4/1983:1226 - Bowers & Merena 9/1998:1097, $64,000 - David Lawrence 11/2004:1504, $92,000
#4 AU58 estimated grade

Heritage 7/2006:2664, $82.225
#4 AU58 estimated grade

Edward Goldschmidt Collection - New York Coin & Stamp Co. - John M. Clapp Collection - John H. Clapp Collection, sold intact in 1942 - Louis E. Eliasberg, Sr. Collection - Bowers & Merena 4/1997:2250, $39,600 - Pellegrini Collection - Heritage 7/2005:10255, $80,500 - Chris Napolitano, sold privately in 7/2007 - Eugene H. Gardner Collection - Heritage 5/2015:98573, $105,750
Q. David Bowers: The following narrative, with minor editing, is from my "Silver Dollars & Trade Dollars of the United States: A Complete Encyclopedia" (Wolfeboro, NH: Bowers and Merena Galleries, Inc., 1993).

Coinage Context

Carson City coinage: In 1873 the Carson City Mint produced only 2,300 standard silver dollars. Emphasis later in the year was on a new silver denomination, the trade dollar, examples of which were minted continuously from 1873 through 1878.

Mintage was 1,000 in January and 1,300 in March. R.W. Julian suggests the following: (Letter to the author, March 20, 1992 ) "If the 2,300 were not called for by the silver depositor, it is likely that they would have been melted, and his bullion returned to him. It is my opinion, however, that all the coins were paid out and then perhaps redeposited for trade dollar coinage a few weeks later."

Numismatic Information

Circulated grades: The 1873-CC is the rarest Liberty Seated dollar from the Carson City Mint, although it is not the lowest mintage (that distinction goes to 1871-CC). It is presumed that although 2,300 were struck, most were melted. Based upon the ratio of surviving pieces, I estimate that no more than 1,000 reached the channels of circulation, and the number may have been closer to 750. As is the case with 1871-CC, the desirability of the 1873-CC was recognized at an early date, and quite a few were taken from circulation. Otherwise, the coin would be on the "rarest of the rare" list today. As it is, there are very few 1873-CC dollars to be had in any grade, and a great deal of patience is often required to locate one.

Mint State grades: Few 1873-CC dollars exist in any Mint State level. The estimates given below in the Summary of Characteristics are highly subjective. Walter H. Breen notes that three Uncirculated coins were found in a Carson City cornerstone about 1973; two of these were bought by Don Vettel, who sold one right away and kept the nicer specimen until 1977. (Letter to the author, June 26,1992.) The only specimen I recall having handled in the Uncirculated category is the magnificent MS-60 Norweb Collection coin. Weimar W. White commented as follows on the subject: (Letter to the author, February 14, 1992.)

Stricter grading has taken its toll on specimens of this date - coins that at one time were considered "Uncirculated." A case in point is illustrated by the famous Harold Bareford specimen listed in Walter Breen's Complete Encyclopedia of U.S. and Colonial Coins as an Uncirculated specimen. This coin was submitted to NGC and was returned graded AU-58.

Only four uncertified 1873-CC Liberty Seated dollars have appeared in auction sales in the past II years, and most of these were listed as MS-60. Perhaps some of these will eventually be certified as Mint State.

In correspondence to the author, Bruce Amspacher told of an especially fine 1873-CC dollar, a specimen which, apparently, has been off the market for years; (Letter to the author, June 24, 1992.)

At the 1973 ANA convention Fred Sweeney purchased a Mint State 1873-CC Seated dollar. The story that went with the coin was that it had been found in the cornerstone of a Nevada building that had been recently torn down. I had not heard that there were three coins until I read the draft copy of the text you sent me .... The coin was white (probably dipped just before the show), virtually mark-free, and had a minor lustre break at the knee-but had no wear. Fred paid $5,000 for the coin and no one would pay more for several years. I don't know where the coin is today.

The "cornerstone" Mint State 1873-CC dollars are not represented in the estimated populations given below under the Summary of Characteristics.

Estimates of rarity: Various contributors to The Gobrecht Journal have voiced their opinions concerning the rarity of this issue. In March 1977, Ron Severa called this the rarest Liberty Seated dollar in Extremely Fine grade, except for the 1870-S. In July 1982, Donald Vettel noted that the 1873-CC is extremely rare, and that fewer than 50 are known. In March 1983, Weimar W. White wrote that no coins were known in MS-65 grade, fewer than five existed in the MS-60 range, and that totally fewer than 40 pieces were known. In July 1984, John Kroon suggested that 40 to 60 coins survive in various grades.

Varieties

Circulation strikes:

1. Normal Date: Breen-5495. Obverse: Just one variety seen, with Closed 3 in date. Reverse: With widely spaced CC mintmark; Reverse D of 1870.

Dies prepared: Obverse: 1; Reverse: 1 (left over from 1870) (This die was used earlier to coin 1870-CC dollars and is Reverse D of that year.)

Circulation strike mintage: 2,300; Delivery figures by month: January: 1,000; March: 1,300.

Estimated quantity melted: Most of the coins struck were probably melted at the Carson City Mint shortly after April 1873. (See text above.)

Characteristics of striking: The 1873-CC is usually well struck; however, some show weakness on Miss Liberty's head and chest and/or on the reverse. As is the case with other CC Mint Liberty Seated dollars, the word LIBERTY on the shield is not as prominent as on Philadelphia coins, and tended to wear away especially quickly once the coins saw circulation.

Known hoards of Mint State coins: None

Commentary

This is the most famous of all Carson City Mint Liberty Seated dollars and also the rarest.