1873-CC 10C Arrows (Regular Strike)
Series: Liberty Seated Dimes 1837-1891
PCGS MS65
Designer:

James Barton Longacre
Diameter:

17.90 millimeters
Metal:

90% Silver, 10% Copper
Current Auctions - PCGS Graded
Current Auctions - NGC Graded
For Sale Now at
Collectors Corner - PCGS Graded
For Sale Now at
Collectors Corner - NGC Graded
Rarity and Survival Estimates

Learn More
Survival Estimate

All Grades
125
60 or Better
5
65 or Better
2
Numismatic Rarity

All Grades
R-7.7
60 or Better
R-9.7
65 or Better
R-9.9
Relative Rarity By Series

All Specs in this Series
All Grades
4 / 122
60 or Better
8 / 122 TIE
65 or Better
18 / 122 TIE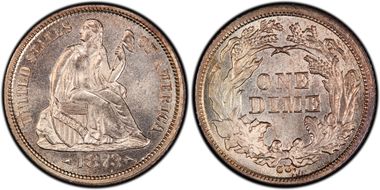 #1 MS65 PCGS grade

Numismatic Gallery (Abe Kosoff and Abner Kreisberg) - Ben Stack (Imperial Coin Company) - Ambassador and Mrs. R. Henry Norweb, acquired 7/1954 - Bowers & Merena 10/1987:537, $61,600 - Waldo E. "Pat" Bolen, Jr.Collection - Stack's/RARCOA/Akers 11/1995:2142, $68,200 - Heritage 4/1999:5927, $71,875 - Rusty Goe, sold privately in 3/2003 - "Battle Born" Collection - Stack's/Bowers 8/2012:11105, $282,000 - Tom Bender Collection
#2 MS64 estimated grade

James A. Stack, Sr. Collection - Stack's 1/1990:153 - Heritage 10/1990:541 - Superior 2/2003:1359, not sold - Goldbergs 1/2004:1885, $230,000 - Bowers & Merena 3/2005:445, $230,000 - Eugene H. Gardner Collection, Part I - Heritage 6/2014:30271, $199,750,750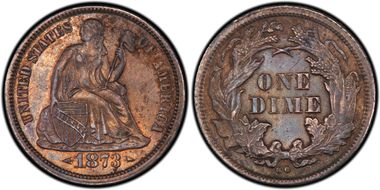 #3 AU53 PCGS grade

"Fjl206" Collection (PCGS Set Regist
#3 AU53 estimated grade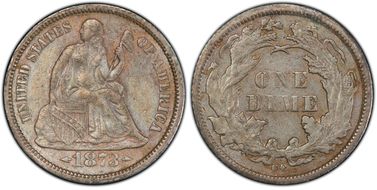 #5 AU50 PCGS grade
#5 AU50 PCGS grade

Heritage 4/2014:5569, $38,188
#5 AU50 estimated grade
#8 XF45 PCGS grade
#8 XF45 PCGS grade
#8 XF45 PCGS grade
Ron Guth
:
The 1873-CC With Arrows Dime is one of the most popular dates in the series, but it sits in the shadows of its big "brother" the Unique 1873-CC No Arrows Dime. Nevertheless, there are plenty of collectors who delight in the coins of the Carson City Mint, and this is a favorite because of its small mintage and great rarity in high grades.
Those collectors looking for certified examples face stiff competition. PCGS shows 80 grading events as of this writing (July 2014), and the true number is doubtless lower because of resubmissions. PCGS has graded only one Mint State example -- an MS65 from the Norweb Collection that sold for $276,000 in 2012. More recently, the Eugene Gardner example in NGC MS65 sold for $199,750 in 2014. These are significant increases over their face value of 10 Cents!
The best that collectors can hope for with this date is a nice, clean, original and unimpaired example. Good luck with that.