1873-CC $20 (Regular Strike)
Series: Liberty Head $20 1850-1907
PCGS MS61
Designer:

James Barton Longacre
Diameter:

34.00 millimeters
Metal:

90% Gold, 10% Copper
Current Auctions - PCGS Graded
Current Auctions - NGC Graded
For Sale Now at
Collectors Corner - PCGS Graded
For Sale Now at
Collectors Corner - NGC Graded
Rarity and Survival Estimates

Learn More
Survival Estimate

All Grades
405
60 or Better
12
65 or Better
Numismatic Rarity

All Grades
R-6.1
60 or Better
R-9.5
65 or Better
R-10.1
Relative Rarity By Series

All Specs in this Series
All Grades
27 / 148 TIE
60 or Better
22 / 148 TIE
65 or Better
1 / 148
#1 MS63 PCGS grade

Texas Collection - American Numismatic Rarities 8/2006:1629, not sold - Kutasi Collection - Heritage 1/2007:3193, $109,250 - Goldbergs 9/2007:3432, $138,000 - Ohringer Family Trust Holdings - Goldbergs 9/2008:1293, $112,125
#2 MS62 PCGS grade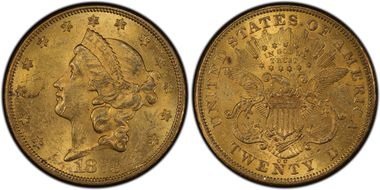 #3 MS61 PCGS grade

Heritage 2/2014:5420, $61,716.88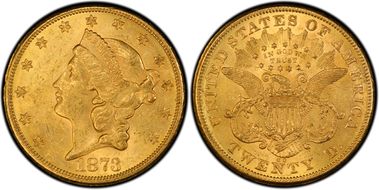 #3 MS61 PCGS grade
#3 MS61 PCGS grade
#3 MS61 PCGS grade
#3 MS61 PCGS grade
#3 MS61 PCGS grade
#9 MS60 PCGS grade
#9 MS60 PCGS grade
Ron Guth
:
David Akers knew of no Uncirculated examples of this date, but in the decades after his work, nearly a dozen Mint State specimens have entered the market. Most are baggy, low-end Uncs., but they are Mint State nonetheless. The best example is a PCGS MS63 that traded hands a few times in 2007-2009, but which appears to have found a good home. This particular example is also somewhat baggy, but it has strong luster and great, original "crust."
David Akers (1975/88)
:
The 1873-CC is very similar in overall rarity to the 1872-CC. It is generally available only in well circulated condition, i.e. VF or EF. Reportedly a few uncs do exist but I do not known the present location of one.