1875-CC T$1 (Regular Strike)
Series: Trade Dollars 1873-1878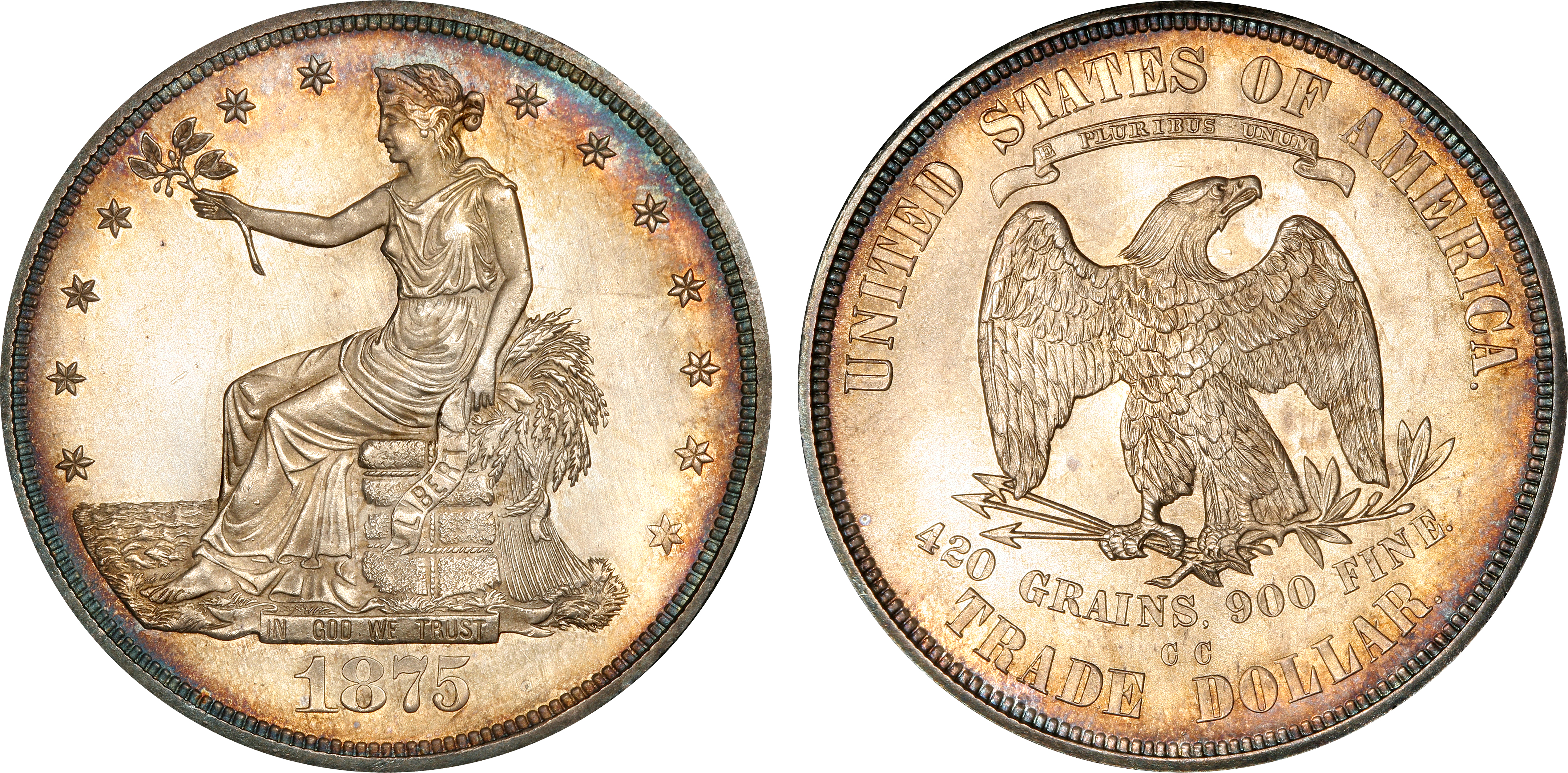 PCGS MS66
Diameter:

38.10 millimeters
Metal:

90% Silver, 10% Copper
Current Auctions - PCGS Graded
Current Auctions - NGC Graded
For Sale Now at
Collectors Corner - PCGS Graded
For Sale Now at
Collectors Corner - NGC Graded
Rarity and Survival Estimates

Learn More
Survival Estimate

All Grades
1,200
60 or Better
300
65 or Better
3
Numismatic Rarity

All Grades
R-4.9
60 or Better
R-6.4
65 or Better
R-9.8
Relative Rarity By Type

All Specs in this Type
All Grades
10 / 18
60 or Better
11 / 18
65 or Better
5 / 18 TIE
Q. David Bowers: The following narrative, with minor editing, is from my "Silver Dollars & Trade Dollars of the United States: A Complete Encyclopedia" (Wolfeboro, NH: Bowers and Merena Galleries, Inc., 1993).

Coinage Context

With a total production quantity of 1,573,700 coins, the 1875-CC was produced in larger numbers than any other trade dollar from this mint. Coinage was erratic throughout the year. Although 225,000 were struck in January, the figure dropped to just 87,000 in February, and none in March. By May the production topped out at 278,000 coins for the month (see Summary of Characteristics for specific monthly figures).

Most 1875-CC trade dollars were exported, although it is likely that significant numbers also circulated in domestic service, particularly in commercial channels on the West Coast.

Numismatic Information

The most available CC trade dollar: The vast majority of known 1875-CC trade dollars are Type 1/1. Taken as a whole, the 1875-CC is the most available Carson City trade dollar, although in MS-64 or better grade it is a great rarity. In MS-60 to MS-63 grade it is somewhat scarce, but is at least twice as available as the next most available Carson City issue, the 1874-CC.

Circulated grades: Worn 1875-CC trade dollars are plentiful, and as late as the 1950s were frequently seen in commercial channels in the Orient. I believe that about 4,000 to 8,000 exist in grades from VF-20 to AU-58.

Chopmarked pieces of the Type I/I issue are common. Chopmarked 1875-CC trade dollars of the Type I/II issue are exceedingly difficult to locate; Marvin Jacobson, who has studied the series carefully, reported that he has owned two and has seen no others; one of these was from the John Willem Collection Sale, the other came from Hong Kong. (Letter to the author, May 15, 1992, and subsequent telephone conversation, August 24, 1992.)

Mint State grades: In MS-65 grade the 1875-CC is very rare; I estimate that just four to eight exist. Even in MS-64 the issue is seldom seen; I estimate a population of just five to 10. At the MS-63 level the coin becomes somewhat available, but is still elusive; I believe that about 75 to 125 exist. Finally, in the MS-60 to 62 range there are enough to meet demand. Some 300 to 500 are believed to exist, making it far and away the most available CC trade dollar in Mint State. However, in absolute terms the coin is hardly common. In fact, an MS-60 1875-CC trade dollar is rarer than a Proof 1895 Morgan dollar.

Bruce Amspacher writes (in his essay, "United States Trade Dollars: 1873-1885," in The Comprehensive U.S. Silver Dollar Encyclopedia): "Some Mint State examples have a heavily striated obverse die. Highly lustrous for a CC issue. A small hoard dispersed in the 1970s is probably responsible for most Mint State examples known today."

Varieties:

OBVERSE TYPE I: RIBBON ENDS POINT LEFT, 1873-1876
REVERSE TYPE I: BERRY BELOW CLAW, 1873-1876

Circulation strikes:

1. Medium CC: Mintmark 1.1 mm high; .95 mm spacing between C's.
2. Tall CC: Breen-5796. Mintmark 1.2 mm high.

This variety exists with the CC letters spaced closely (Close CC) and with the letters spaced widely, as C C (Wide CC). Often seen chopmarked.

3. Tall CC. Doubled reverse die: Not in Walter H. Breen's Encyclopedia. Doubling in many areas; plainest on OF AMERICA, adjacent wing, and GRAINS FINE. Now considered to be very rare. As the issue gains publicity (if it does), undoubtedly more will be identified. Cf. Peter Rishel Collection specimen.

(1875-S/CC Large S: Related to but not struck at the Carson City Mint. Breen-5792. See later separate listing for this variety.)

OBVERSE TYPE I: RIBBON ENDS POINT LEFT, 1873-1876
REVERSE TYPE II: NO BERRY BELOW CLAW, 1875-1885
Circulation strikes:

1. Tall CC: Breen-5797. Very rare in all grades. Possibly even rarer if chopmarked. Apparently, the Type II reverse dies reached Carson City late in the year.

Dies prepared: Obverse: 18+; Reverse: 18+. 18 pairs were shipped November 12, 1874, probably others later.

Circulation strike mintage: 1,573,700. Delivery figures by month: January: 225,000; February: 87,000; March: none; April: 75,000; May: 278,000; June: 88,700; July: none; August: 35,000; September: 234,000; October: 256,000; November: 234,000; December: 61,000. If the total mintage required 18 die-pairs, this averages 87,427 per die-pair.

Characteristics of striking: Usually seen well struck.

Known hoards of Mint State coins: A group of about 40 pieces was sold by World-Wide Coin Investments in the 1970s.

Rarity with original Chinese chopmark(s): Rev.

Type I. Somewhat scarce; Rev. Type II. Very rare. The second rarest (after 1878-CC) chopmarked trade dollar.
Commentary

The highest mintage, most available Carson City coin of this denomination. Exists in Type III and Type I/II styles.