1876-CC 20C (Regular Strike)
Series: Liberty Seated Twenty Cents 1875-1876
PCGS MS66
Diameter:

22.00 millimeters
Metal:

90% Silver, 10% Copper
Current Auctions - PCGS Graded
Current Auctions - NGC Graded
For Sale Now at
Collectors Corner - PCGS Graded
For Sale Now at
Collectors Corner - NGC Graded
Rarity and Survival Estimates

Learn More
Survival Estimate

All Grades
19
60 or Better
19
65 or Better
6
Numismatic Rarity

All Grades
R-9.1
60 or Better
R-9.1
65 or Better
R-9.7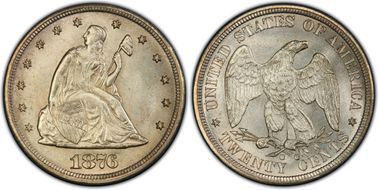 #1 MS66 PCGS grade

Ed Frossard 12/1900:324 - S. Benton Emery - Bowers & Merena 11/1984:482 - Superior 3/2001:237 (as NGC MS66 700000-001), $161,000 - Superior 5/2003:2433 (as PCGS MS66), bought back at $220,000 hammer - Joseph C. Thomas Collection - Heritage 4/2009:2299 (as PCGS MS66 05226579), $460,000
#1 MS66 PCGS grade

Heritage 10/2001:6222 (as PCGS MS66 02575134), $138,000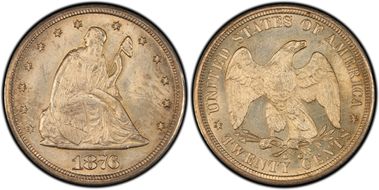 #3 MS65 PCGS grade

F.C.C. Boyd - Numismatic Gallery "World's Greatest Collection" 3/1945:487 - Jerome Kern Collection - B. Max Mehl 5/1950:1642 - Edwin M. Hydeman - Abe Kosoff 3/1961:405 - Joe Flynn, offered publicly at $23,900 - Julian Leidman - Armand Champa Collection - American Auction Association 5/1972:791 - Ron Winget (Secure Monetary Systems) - Bowers & Ruddy - Stephen Tebo - Superior "ANA Auction Sale" 8/1975:349 - Quality Sales "Carlson/Shipkey Sale" 11/1976:349 Bowers & Merena "Arnold & Romisa Collections" 9/1984:2211 - Reed Hawn - Stack's "Auction '85" 7/1985:1653 - Stack's "ANA National Money Show" 2/2002:352 - Heritage 1/2012
#3 MS65 PCGS grade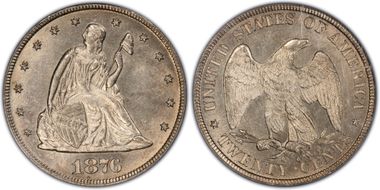 #3 MS64 PCGS grade

Stack's 2/1991:1297 - Stack's 10/2003:2599, $150,650 - Stack's 10/16/2007:4941, $350,750
#3 MS64 PCGS grade

Maryland Hoard, discovered in the Baltimore area circa 1956 to 1957 - unknown intermediaries - unknown collector who included this coin in a set of 1876 coinage, later selling the set through dealer Mark Mendelson when he learned that he was terminally ill - Dr. David Litrenta, acquired as part of the aforementioned set of 1876 coinage - Heritage 8/1999:5518 - Heritage 1/2000:5177 - Duncan Lee/Douglas Winter - Battle Born Collection - Stack's/Bowers 8/2012:11101, $460,000
#3 MS64 PCGS grade

S.L. Lee Collection - J.W. Scott & Co. 6/1899 - J.M. Clapp Collection - John H. Clapp Collection, sold intact in 1942 - Louis E. Eliasberg, Sr. Collection - Bowers & Merena 4/1997:1353 (as Raw MS65), $148,500 - Eugene H. Gardner Collection - Heritage 6/2014:3034, $470,000
#3 MS64 PCGS grade
#3 MS64 PCGS grade
#3 MS64 estimated grade
Ron Guth
: The 1876-CC Twenty Cents is a great rarity in American numismatics. A mintage of 10,000 makes for a rare coin, but the extreme rarity of this date may have been caused by other factors. In a letter dated March 19, 1877, the Director of the Mint (Henry R. Linderman) ordered the Superintendent of the Carson City Mint (James Crawford) to melt down all Twenty Cents still on hand at the time. Presumably, many, if not most, of the 1876-CC Twenty Cents were included in the melt.
An estimated 12-20 1876-CC Twenty Cents are known today. Most of the surviving examples are in Uncirculated condition, leading some experts to believe that they were specimens set aside for the annual assay. If this is true, how did the coins escape and doesn't the number of surviving examples exceed the number of coins normally set aside for assay purposes?
Breen cited a "Maryland estate" in the pedigrees of four of the 16 1876-CC Twenty Cents he listed. According to Breen, "The Maryland estate (1957) reportedly contained 10 in all, of which I examined four..." The cataloguer of the October 2003 Stack's sale explains, "In the late 1950s, five to eight were discovered in Baltimore by Tom Warfield of the Mason-Dixon Coin Exchange, an early mentor of the late Walter Breen. These ``Maryland Hoard' pieces were all high grade, Very Choice to Gem Uncirculated..."
The following listing of known examples is an update of the "Registry of 1876-CC 20¢ Pieces" from the April 1997 catalog of the Louis E. Eliasberg, Sr. Collection by Auctions by Bowers and Merena, Inc.:
NGC MS-66. Superior 05/2003:2433, $253,000.00

NGC MS-66 (illustrated above). Ed Frossard 12/1900:324 - S. Benton Emery - Bowers & Merena "Emery & Nichols Collection" 11/1984:482 - Superior 03/ 2001:237, $161,000.00, where it was described as follows: "1876-CC NGC graded Mint State 66. The Emery-Nichols Specimen. Satiny-frosty surfaces on obverse and reverse. Brilliant throughout. Diagnostic features: a tiny mark in the field to right of the third star; a faint hairlines from the rim to the rock left of the date; NGC holder #700000-001. One of the finest examples of this, a classic American rarity."
PCGS MS-66. Heritage 10/2001:6222, $138,000.00, where it was described as follows: "1876-CC 20C MS66 PCGS. "Both sides are richly toned in lavender-copper patina with brighter gold and blue undertones that sparkle as the coin rotates beneath a light. The devices are fully struck save for slight softness of detail on the obverse over Liberty's head and on the reverse at the top and bottom of the eagle's portrait. Modest hints of reflectivity are seen in the fields, as well as numerous small die polish lines (as struck). A tiny lintmark (also as produced) in the reverse field above the eagle's left (facing) wing is noted for pedigree purposes."
NGC MS-65. F.C.C. Boyd - Jerome Kern:1642 - Edwin Hydeman:405 - Joe Flynn - Julian Leidman - Armand Champa - Ron Winder - Steve Tebo - 1975 ANA:349 - Quality Sales (Abner Kreisberg and Jerry Cohen) 11/1976:349 - Arnold/Romisa:2211 - Reed Hawn - Stack's 02/2002, $115,000.00, uncertified Auction 1985:1653 - offered by David Lawrence Rare Coins in the January 7, 2003 issue of NUMISMATIC NEWS for $175,000.00. Rim nick below end of rock.
PCGS MS-64. Superior 2/1991:1297 - Stack's 10/2003:2599, $131,000.00
Jaime Hernandez
:
The earliest known sale of an 1876-CC 20 Cent Piece was in the 1890 New York Stamp and Coin Company Auction where it realized $7.