1879-CC $20 (Regular Strike)
Series: Liberty Head $20 1850-1907
PCGS MS62
Designer:

James Barton Longacre
Diameter:

34.00 millimeters
Metal:

90% Gold, 10% Copper
Current Auctions - PCGS Graded
Current Auctions - NGC Graded
For Sale Now at
Collectors Corner - PCGS Graded
For Sale Now at
Collectors Corner - NGC Graded
Rarity and Survival Estimates

Learn More
Survival Estimate

All Grades
574
60 or Better
26
65 or Better
Numismatic Rarity

All Grades
R-5.8
60 or Better
R-8.9
65 or Better
R-10.1
Relative Rarity By Series

All Specs in this Series
All Grades
31 / 148 TIE
60 or Better
36 / 148 TIE
65 or Better
1 / 148
#1 MS62 PCGS grade

Raymond J. Wayman Collection of U.S. Eagles & Double Eagles - Stack's 9/1981:293 - Stack's "Auction '86" 7/1986:443 - Superior 1/2005:1119 - Rusty Goe, 11/2005 - Battle Born Collection - Stack's/Bowers 8/2012:11048, $74,750. The plate coin in "United States Gold Coins: An Analysis of Auction Records, Volume VI" by David W. Akers, and in "Gold Coins of the Carson City Mint" by Douglas Winter and James L. Halperin.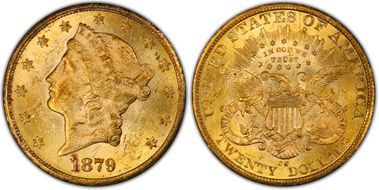 #2 MS61 PCGS grade

"AWA" Collection - D.L. Hansen Collection
#2 MS61 PCGS grade
#2 MS61 PCGS grade
#2 MS61 PCGS grade
#2 MS61 PCGS grade
#2 MS61 PCGS grade
#8 MS60 PCGS grade
#9 AU58 PCGS grade
#9 AU58 PCGS grade
David Akers (1975/88): In terms of both overall rarity and condition rarity, the 1879-CC is only marginally less rare than the 1878-CC. (Some people whose experience would obviously be different from my own, might feel the 1879-CC is the rarer of the two. At any rate they are very close.) This date is not available all that often in any grade and when offered, the typical 1879-CC is only VF or EF. Strictly graded AU's are rare and mint state specimens, even Unc-60's, are for all practical purposes non-existent. I have seen only one average quality unc and have never even heard of anything close to choice or gem quality. In this respect, the 1879-CC is even more rare than the highly touted 1879-O although the 1879-O is basically a rarer date.