1890-CC $5 (Regular Strike)
Series: Liberty Head $5 1839-1908
PCGS MS64+
Designer:

Christian Gobrecht
Diameter:

21.65 millimeters
Metal:

90% Gold, 10% Copper
Current Auctions - PCGS Graded
Current Auctions - NGC Graded
For Sale Now at
Collectors Corner - PCGS Graded
For Sale Now at
Collectors Corner - NGC Graded
Rarity and Survival Estimates

Learn More
Survival Estimate

All Grades
675
60 or Better
200
65 or Better
4
Numismatic Rarity

All Grades
R-5.6
60 or Better
R-7.0
65 or Better
R-9.8
Relative Rarity By Type

All Specs in this Type
All Grades
45 / 106
60 or Better
52 / 106 TIE
65 or Better
15 / 106 TIE
Relative Rarity By Series

All Specs in this Series
All Grades
153 / 218 TIE
60 or Better
153 / 218 TIE
65 or Better
30 / 218 TIE
#1 MS66 PCGS grade

Heritage 12/2004:6670, $66,125
#2 MS65 PCGS grade

Douglas Winter, sold privately in 5/2002 - Battle Born Collection - Stack's/Bowers 8/2012:11016, $46,000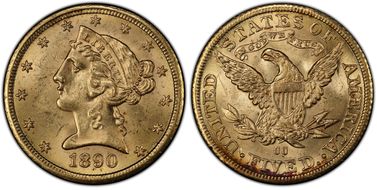 #3 MS64 PCGS grade
#3 MS64 PCGS grade

Old West Collection - American Numismatic Rarities 8/2006:1337, $9,775
#3 MS64 PCGS grade

William Porter Collection - Stack's/Bowers 8/2011:9466, $10,350
#3 MS64 PCGS grade
#3 MS64 PCGS grade
#3 MS64 PCGS grade
#3 MS64 PCGS grade
#3 MS64 PCGS grade
Ron Guth
:
David Akers wrote accurately when he noted that Gem quality 1890-CC Half Eagles are "rather rare." In fact, any 1890-CC Half Eagle is extremely rare in grades above MS64. The most impressive example of this date is the PCGS MS66 that sold all the way back in 2004 in a Heritage auction for $66,125. That example has not re-appeared on the market since then, and it would easily carry into six figures today.
David Akers (1975/88)
:
The 1890-CC is scarce, but not rare, in all grades. As a date, the 1890-CC is a bit more scarce than the 1882-CC but it is easier to locate in strictly uncirculated condition than the 1882-CC. It is comparable overall to the 1892-CC and 1893-CC and much more rare than the 1891-CC. Although many known specimens are only VF or EF, AU and even strictly uncirculated specimens can be obtained. However, gem quality mint state pieces are rather rare.