1893/2 10C (Regular Strike)
Series: Barber Dimes 1892-1916
PCGS MS66
Designer:

Charles E. Barber
Diameter:

17.90 millimeters
Metal:

90% Silver, 10% Copper
Current Auctions - PCGS Graded
Current Auctions - NGC Graded
For Sale Now at
Collectors Corner - PCGS Graded
For Sale Now at
Collectors Corner - NGC Graded
Rarity and Survival Estimates

Learn More
Survival Estimate

All Grades
500
60 or Better
75
65 or Better
30
Numismatic Rarity

All Grades
R-6.0
60 or Better
R-8.2
65 or Better
R-8.9
Relative Rarity By Type

All Specs in this Type
All Grades
2 / 76
60 or Better
2 / 76 TIE
65 or Better
6 / 76 TIE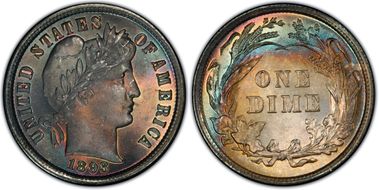 #1 MS66 PCGS grade

Bob R. Simpson Collection - Legend Rare Coin Auctions 12/2014:61, $5,875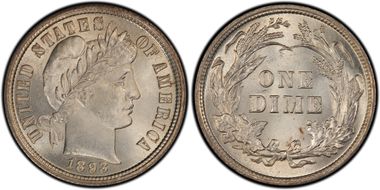 #1 MS66 PCGS grade

Heritage 1/2004:5660 - David Lawrence Rare Coins, sold privately in 4/2008 - Eugene H. Gardner Collection - Heritage 10/2014:98303, $8,225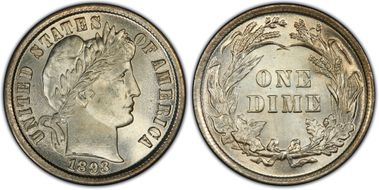 #1 MS66 PCGS grade

David Lawrence 2/2010:203, $10,235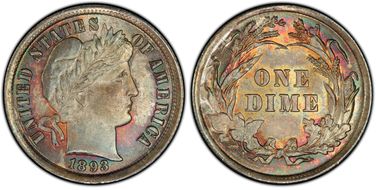 #1 MS66 PCGS grade
#1 MS66 PCGS grade
#1 MS66 PCGS grade
#7 MS65 PCGS grade
#7 MS65 PCGS grade
#7 MS65 PCGS grade
#7 MS65 PCGS grade
Ron Guth
:
The 1893/2 10C was discovered by Walter Breen in February 1961, who noted the variety on both business strikes and Proofs. PCGS continues to recognize this variety, while others do not, nor is it listed in the Cherry-Pickers Guide.
The undertype appears to show the diagonal bar and the lower base of a 2 behind the 3. Some claim this is merely a repunched 3.
In terms of rarity, the "overdate" has the lowest population of any of the coins in the Barber series. It is scarce to rare in Mint State, with most examples appearing in MS64. A small group of PGGS MS65 and MS66 examples exist, with none finer.
The price record for this variety was set in 2006, when a PCGS MS66 example owned by Dr. Steven Duckor sold for $11,500.