1895-O $1 (Regular Strike)
Series: Morgan Dollars 1878-1921
PCGS MS67
Designer:

George T. Morgan
Diameter:

38.10 millimeters
Metal:

90% Silver, 10% Copper
Current Auctions - PCGS Graded
Current Auctions - NGC Graded
For Sale Now at
Collectors Corner - PCGS Graded
For Sale Now at
Collectors Corner - NGC Graded
Rarity and Survival Estimates

Learn More
Survival Estimate

All Grades
37,493
60 or Better
718
65 or Better
18
Numismatic Rarity

All Grades
R-2.6
60 or Better
R-5.5
65 or Better
R-9.2
Relative Rarity By Type

All Specs in this Type
All Grades
22 / 117 TIE
60 or Better
6 / 117
65 or Better
11 / 117 TIE
Relative Rarity By Series

All Specs in this Series
All Grades
22 / 117 TIE
60 or Better
6 / 117
65 or Better
11 / 117 TIE
#1 MS67 PCGS grade

Wayne Miller Collection, acquired 1/1975 for $5,500 - Superior 1/1986:1310 - Jack Lee Collection - Heritage 11/2005:2324, $575,000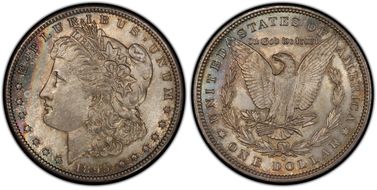 #2 MS66 PCGS grade

Rev. Dr. James G. K. McClure Collection - Heritage 6/2016:4710, $258,500
#2 MS66 PCGS grade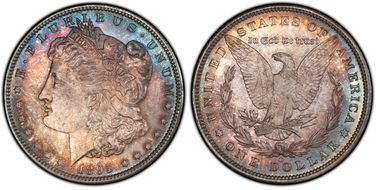 #3 MS65+ PCGS grade

Stack's/Bowers 11/2017:10102, $180,000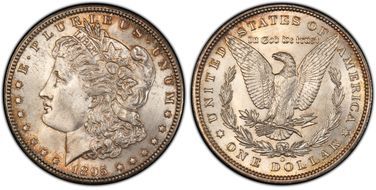 #3 MS65+ PCGS grade

New Orleans Mint, 10/1895 - J.M. Clapp - John H. Clapp - Clapp Estate, 1942 - Louis E. Eliasberg, Sr. Collection - Bowers & Merena 4/1997:2299, $253,000 - Stellar Collection - Heritage 7/2008:1789 - Heritage 1/2012:3362, $228,850 - "Wizard of Oz" Collection (PCGS Set Registry)
#3 MS65+ PCGS grade

Bowers & Merena 3/2009:3354, $126,500 - Vanderbilt Collection
#7 MS65 PCGS grade

Bowers & Merena 9/2004:1187, $149,500 - Coronet Collection - Legend Rare Coin Auctions 10/2015:5, $211,500 - Stiel Collection (PCGS Set Registry)
#7 MS65 PCGS grade

J.W. Scott & Co., sold privately on 10/26/1908 - Albert Fairchild Holden - Norweb Collection - Bowers & Merena 11/1988:3892, $22,000 - Michael Casper Collection - Arno Collection - Heritage 1/2009:5037, $126,500 - Sunnywood/Simpson Collection - Legend 10/2014:194, $258,500
#7 MS65 PCGS grade

Sanderson Family Collection - Heritage 1/2009:5036, $126,500 - Heritage 8/2012:5210, $164,500
#7 MS65 PCGS grade

Bowers & Merena 3/2009:3354 (as PCGS MS65), $126,500
Ron Guth
:
The 1895-O Silver Dollars is one of the most difficult of the series to find in nice condition. The quantity of truly Mint State 1895-O Dollars is very low. This statement becomes clear on examining the PCGS Population Report. As of October 2012, PCGS had certified approximately equal quantities of 1894-S, 1895-O, and 1896-O Dollars -- between 4,000 and 5,000 each. Any suggestions of similarities between these dates is demolished when one examines the Mint State columns, where PCGS shows the following -- for the 1894-S, PCGS shows nearly 3,000 MS examples; for the 1896-O, nearly 1,300; for the 1895-O, a mere 143 examples.
Prooflike and Deep Mirror Prooflike 1895-O Dollars are very rare.
The finest 1895-O Dollar is a single PCGS MS-67, the phenomenal coin once owned by Silver Dollar specialists Wayne Miller and Jack Lee, and which realized $575,000 way back in 2005.
Q. David Bowers: The following narrative, with minor editing, is from my "Silver Dollars & Trade Dollars of the United States: A Complete Encyclopedia" (Wolfeboro, NH: Bowers and Merena Galleries, Inc., 1993)

Coinage Context

Striking quality: During this period, the coiners at the New Orleans Mint had a job to do: to coin as many silver dollars as possible in the least amount of time. To say that their workmanship was shoddy would be an understatement; from a numismatic viewpoint, it was terrible. Knowing that most of these silver dollars were not wanted in the channels of commerce and would simply go into bulk storage after they were minted, the workers had little incentive to create an attractive product. To churn out a stream of Morgan dollars with as little attention to the presses as possible, the coiners spaced the dies slightly too far apart, thus minimizing die wear and breakage. The result was as stated: terrible-looking coins. Not that this extended die life; if all five die pairs were used, they averaged only 90,000 coins per obverse. If only the three VAM obverses were used, the figure is 150,000-still very low.

While most 1895-O dollars went into storage and were melted later, probably well over 100,000 were placed into circulation.
Numismatic Information

Market notes: Around the year 1900 there was a sudden enthusiasm for 1894-O, 1894-S, 1895-O, and 1895-S silver dollars, and a few specimens were sold for several dollars apiece. The interest soon faded, and Uncirculated pieces could be obtained for less than $2 apiece. From that time until the 1940s, few Mint State coins appeared on the market. Even the most famous collections were apt to contain worn pieces.

Around the 1950s, a small number of Mint State coins were released from storage in the Treasury Building in Washington, D.C. Probably from a few dozen to a couple of hundred went into the hands of dealers and collectors. Market information is difficult to obtain today, for listings of "Uncirculated" coins years ago were apt to represent what we would call AU today. This was the era of "sliders." Harry J. Forman, who has handled as many O-Mint dollars as anyone, never heard of a quantity of true Mint State 1895-O dollars. Apparently, no 1895-O dollars were represented in the Treasury release of 1962-1964.

Circulated grades: Circulated coins are slightly scarce today. Most are in lower grade levels. AU coins or "sliders" are often seen on the market, and in the years before certified coins were often sold as "Uncirculated." John Highfill reported purchasing an 1895-O dollar certified as MS-63/65 by ANACS in 1980, and sending it to PCGS and NGC in 1989 and having both services grade it AU-55, a commentary on the changing grading scene. Wayne Miller wrote that in his experience, high grade AU coins are often more attractive than low grade Mint State coins.

Mint State grades: Most 1895-O dollars are poorly struck and have unattractive surfaces. In lower Mint State levels from MS-60 to MS-63, this is the rarest New Orleans Mint dollar today. In higher Mint State levels it is also very rare.

The rarity and importance of the 1895-O in Mint State cannot be overemphasized. As a dealer I know full well that only rarely does a specialized collection of Morgan dollars contain a specimen in any Uncirculated grade. Over the years, the 1895-O has received very little publicity, as virtually no one has had a vested interest (i.e., inventory).
Prooflike coins: Prooflike coins are very rare, and only a few DMPL coins exist.

Varieties

1. Normal date: Possibly not all five pairs of dies were used. The VAM text describes three obverses and two reverses. These could have made the whole mintage.

Dies prepared: Obverse: 5; Reverse: 5

Estimated quantity melted: Well over 100,000.

Circulation strike mintage: 450,000; Delivery figures by month: January: 200,000; February: 100,000; March: none; April: 100,000; May: 50,000; June-December: none.

Availability of prooflike coins: Prooflike coins are very rare, and DMPL coins are even more so. Nearly all are in lower grades.

Characteristics of striking: Mostly are weakly struck at centers and have unattractive surfaces.

Known hoards of Mint State coins: None. Apparently, no significant quantities were released by the Treasury in the 1950s or 1960s.

Commentary

In Mint State the 1895-O dollar is very rare. When found, specimens are usually poorly struck with unattractive surfaces.