1896-O $1 (Regular Strike)
Series: Morgan Dollars 1878-1921
PCGS MS64
Designer:

George T. Morgan
Diameter:

38.10 millimeters
Metal:

90% Silver, 10% Copper
Current Auctions - PCGS Graded
Current Auctions - NGC Graded
For Sale Now at
Collectors Corner - PCGS Graded
For Sale Now at
Collectors Corner - NGC Graded
Rarity and Survival Estimates

Learn More
Survival Estimate

All Grades
490,000
60 or Better
23,000
65 or Better
8
Numismatic Rarity

All Grades
R-1.6
60 or Better
R-2.7
65 or Better
R-9.6
Relative Rarity By Type

All Specs in this Type
All Grades
65 / 117 TIE
60 or Better
36 / 117 TIE
65 or Better
4 / 117 TIE
Relative Rarity By Series

All Specs in this Series
All Grades
65 / 117 TIE
60 or Better
36 / 117 TIE
65 or Better
4 / 117 TIE
#1 MS66 PCGS grade

Jack Lee Collection - Heritage 11/2005:2327, $345,000
#1 MS66 PCGS grade
#3 MS65 PCGS grade
#4 MS64 PCGS grade

R. Dier - Gold River Collection (PCGS Set Registry)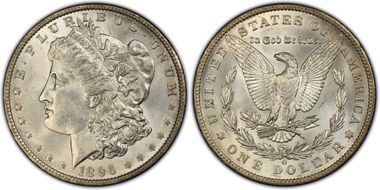 #4 MS64 PCGS grade

Arno Collection - Heritage 1/2009:5041
#4 MS64 PCGS grade

Heritage 1/2009:5042
#4 MS64 PCGS grade

Heritage 1/2009:5040
#4 MS64 PCGS grade
#4 MS64 PCGS grade
#4 MS64 PCGS grade
Ron Guth: In 2005, PCGS determined that all 1896-O, 1900-O and 1902-O Silver Dollars with so-called "Micro o" mintmarks were counterfeit. This announcement was based on the discovery that all three dates shared common die markers.
Q. David Bowers: The following narrative, with minor editing, is from my "Silver Dollars & Trade Dollars of the United States: A Complete Encyclopedia" (Wolfeboro, NH: Bowers and Merena Galleries, Inc., 1993)

Numismatic Information

Commentary: The 1896-O dollar is one of those coins that makes numismatics so interesting and, at the same time, puzzling to the uninitiated observer. On one hand, a well-worn specimen can be bought rather inexpensively. On the other hand, no less an authority than Wayne Miller wrote that "the 1896-O is the rarest of all Morgan dollars in truly gem condition." In some ways the 1896-O dollar is similar to its cousin of a decade earlier, the 1886-O. Both are exceedingly rare in high Mint State levels, but are relatively available MS-60 to 62.

The 1896O was minted in large quantities -- 4.9 million pieces. Many if not most of these were probably placed into circulation at or near the time of striking. Others were stored at the New Orleans Mint, and later shipped to vaults at the Treasury Building in Washington, D.C. and at the Philadelphia Mint.

Examples of this date in Mint State were always available cheaply on the market during the 1950s. In 1953, New York dealer Philip Maul broke up one bag, possibly two. A few more bags came out in 1956. Little attention seems to have been paid to this date. It was considered neither rare nor common. Striking was not of the best, and for this reason 1896-O dollars were not especially sought.

In the early 1960s, some additional bags came out, probably from storage in the Philadelphia Mint. John B. Love recalled buying a bag of coins in Billings, Montana, a quantity consisting of weakly struck pieces without a prooflike coin in the lot. Steve Ruddel, Washington, D.C. dealer in quantities of dollars in the early 1960s, told of turning down a bag at $3 per coin, as he did not know if this was just the tip of the iceberg; for all he (or anyone else) knew, hundreds of bags might have been forthcoming (as in the case with 1898-O and other issues). A bag of 1896-O dollars was reportedly stolen from LaVere Redfield in 1963, as part of a burglary involving about 100,000 coins (Miller, p. 6).

A few other bags of 1896-O dollars turned up in the early 1960s, but the number could not have been large. Harry J. Forman, an astute observer of the Morgan dollar scene, stated that he had neither heard of nor handled a bag of this issue. Survivors in Mint State are nearly all in lower ranges such as MS-60 and MS-61.

Circulated grades: In all worn grades the 1896-O dollar is very common.

Mint State grades: Mint State coins are readily available in MS-60 or even MS-61. In these two grades plus MS-62, probably about 2,000 to 4,000 exist. These represent the vast majority of the Uncirculated pieces within the numismatic community.

Above the MS-62 level, the supply drops precipitously. In MS-63 1896-O dollars are rare; probably only 200 to 350 survive. In MS-64, the number falls to only 75 to 150, and in MS-65 or better the population is almost off the bottom of the chart, with only 4 to 8 known. In full MS-65 or better the 1896-O Morgan dollar is the stuff of which legends are made.

Nearly all pieces are poorly struck with average to poor lustre. Many "slider" AU coins exist; these are sometimes sold as "Uncirculated." Prooflike coins: Prooflike coins are occasionally available and are usually well struck with deep mirror surfaces, but they are usually abraded and have dull lustre. "They are among the least attractive of all prooflike dollars," Wayne Miller commented. As of September 1992, NGC and PCGS graded five PL and eight DMPL coins, nearly all in lower grades. The "Proof' in Bolender's 183rd Sale (Feb. 23, 1952) brought an astonishing $60; it has not been traced.

Varieties

Circulation strikes:

1. Normal date: Breen-5646. Medium round O, wide opening. Medium oval O, slit opening.

Jeff Oxman reported this!: "The Oval O (VAM-8) has not been corroborated by any current member of the Society of Silver Dollar Collectors; that is not to say that it does not exist, but if it does, it is exceedingly rare."

Dies prepared: Obverse: Unknown; Reverse: Unknown.

Circulation strike mintage: 4,900,000; Delivery figures by month: January: none; February: 500,000; March: 500,000; April: 350,000; May: 300,000; June: 300,000; July: 300,000; August: 600,000; September: 600,000; October: 600,000; November: 600,000; December: 250,000.

Estimated quantity melted: Millions, including Mint State coins under the Pittman Act and worn examples as parts of various melts.

Availability of prooflike coins: PL and DMPL coins are rare. Most are of low contrast and heavily bagmarked, and in lower grades.

Characteristics of striking: Nearly always seen flatly struck.

Known hoards of Mint State coins: Several bags of 1,000 coins were released by the Treasury in the 1950s and in 1962-1964.

Commentary

The 1896-O is very common in worn grades, but is extremely rare in high Mint State levels.