1898-O 50C (Regular Strike)
Series: Barber Half Dollars 1892-1915
PCGS MS66+
Designer:

Charles E. Barber
Diameter:

30.00 millimeters
Metal:

90% Silver, 10% Copper
Current Auctions - PCGS Graded
Current Auctions - NGC Graded
For Sale Now at
Collectors Corner - PCGS Graded
For Sale Now at
Collectors Corner - NGC Graded
Rarity and Survival Estimates

Learn More
Survival Estimate

All Grades
1,250
60 or Better
250
65 or Better
30
Numismatic Rarity

All Grades
R-4.9
60 or Better
R-6.6
65 or Better
R-8.9
Relative Rarity By Type

All Specs in this Type
All Grades
4 / 74 TIE
60 or Better
28 / 74 TIE
65 or Better
9 / 74 TIE
Relative Rarity By Series

All Specs in this Series
All Grades
4 / 74 TIE
60 or Better
28 / 74 TIE
65 or Better
9 / 74 TIE
#1 MS67 PCGS grade
#2 MS66 PCGS grade

Dr. Thaine B. Price Collection - David Akers 5/1998:143, $10,450 - Heritage 6/2005:6329 - Eugene H. Gardner Collection - Heritage 6/2014:30555, $15,862.50
#2 MS66 PCGS grade

David Akers, sold privately on 8/16/1995 - Dr. & Mrs. Steven L. Duckor Collection - Heritage 8/2010:3192, $12,650 - Dr. Peter & Janice Shireman Collection - Heritage 1/2016:5394, $9,400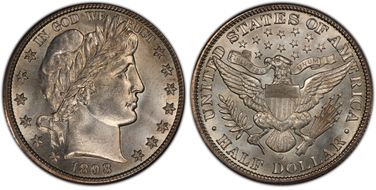 #2 MS66 PCGS grade

Heritage 11/2007:806 - Oliver Collection - Heritage 8/2011:7205, $12,650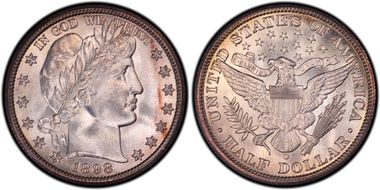 #2 MS66 PCGS grade

Goldbergs 6/2014:807, $17,625
#5 MS66 estimated grade

John C. Hugon - Heritage 1/2005:4218, $25,300 - Greensboro Collection, Part VI - Heritage 10/2015:3286, $22,325
#6 MS65 PCGS grade
#6 MS65 PCGS grade

Superior 5/90 - Dr. Peter Shireman
#6 MS65 PCGS grade

Dale Friend - Heritage 1/2009:3880, $10,350
#6 MS65 PCGS grade
Ron Guth
:
The 1898-O Half Dollar is a semi-scarce date that has often been perceived as being underrated. However, before comparing it with the dates that David Akers cited, it's important to point out that the 1898-O is a tremendous rarity with a full strike. Many examples, including those with the highest numerical grades are poorly struck, with weakness most noticeable at the upper right shield point (and adjacent wings) and on Liberty's lips. There are a couple of special examples that come tantalizngly close to being fully struck, but an example with both full lips and a full shield may not exist.
Comparing the 1898-O to the following dates -- 1896-O, 1896-S, 1897-O, 1897-S -- yields some interesting results, based on the PCGS Population Report. The 1896-O is the true star of the group. It has the lowest Mint State population by far (less than half that of the 1898-O). The 1896-S, 1897-O, and 1898-O have similar populations, with the 1897-O being slightly scarcer. The 1897-S has a significantly larger Mint State populations than all the others of the group. When examining the dates in this group for condition-rarity (how rare are they in high grade), the 1898-O and the 1896-S are the most difficult to locate above MS65.
David Akers: In the past, the 1898-O was always overshadowed by the mintmarked issues of 1896 and 1897; that is, although the 1898-O was always considered a very scarce date, it generally took a backseat to the 1896-O, 1896-S, 1897-O and 1897-S in terms of popularity and perceived rarity. Now that we have a better picture of the relative rarity of many of the issues in the series, however, it is quite clear that the 1898-O in Gem condition is decidedly more rare than either of the two 1897 issues and is actually very similar in rarity to the 1896-O and 1896-S. I feel that is is one of the more underrated issues in the series in high grade, and Gem quality examples are extremely difficult to locate.