1901-O 10C (Regular Strike)
Series: Barber Dimes 1892-1916
PCGS MS66+
Designer:

Charles E. Barber
Diameter:

17.90 millimeters
Metal:

90% Silver, 10% Copper
Current Auctions - PCGS Graded
Current Auctions - NGC Graded
For Sale Now at
Collectors Corner - PCGS Graded
For Sale Now at
Collectors Corner - NGC Graded
Rarity and Survival Estimates

Learn More
Survival Estimate

All Grades
3,000
60 or Better
200
65 or Better
50
Numismatic Rarity

All Grades
R-4.4
60 or Better
R-7.0
65 or Better
R-8.5
Relative Rarity By Type

All Specs in this Type
All Grades
16 / 76 TIE
60 or Better
12 / 76 TIE
65 or Better
14 / 76 TIE
Relative Rarity By Series

All Specs in this Series
All Grades
16 / 76 TIE
60 or Better
12 / 76 TIE
65 or Better
14 / 76 TIE
#1 MS67 PCGS grade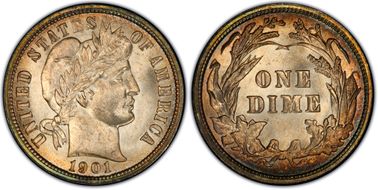 #2 MS66+ PCGS grade

Bob R. Simpson Collection - Legend Rare Coin Auctions 12/2014:87, $4,583 - Srotag Barber Dimes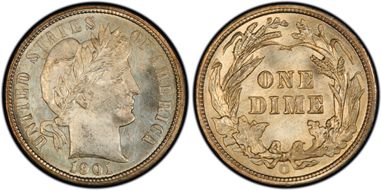 #3 MS66 PCGS grade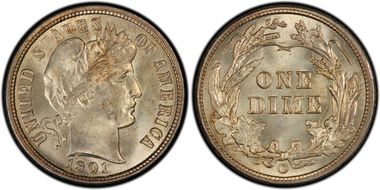 #3 MS66 PCGS grade

"MarvinkGibbs" Collection
#3 MS66 PCGS grade

Heritage 2/2007:2945, $5,750 - Heritage 8/2011:3630 - Lily Nicole Collection - Heritage 4/2015:3927, $3,700.07 - Heritage 12/2015:4248, $1,997.50
#3 MS66 PCGS grade
#3 MS66 PCGS grade
#3 MS66 PCGS grade
#3 MS66 PCGS grade
#10 MS65 PCGS grade
Ron Guth
:
The 1901-O Dime is not a particularly rare coin, but it definitely commands a premium in most grades when compared to the normal Barber Dime "type." Mint State examples are fairly plentiful and appear most often in the grades of MS63 and MS64. The best examples are MS66, with one or two finer.
The strike on the 1901-O Dime is generally good, though weakness can be seen sometimes on STATES and OF on the obverse (either the entire words or a few letters in each word). The reason for this is unknown, as the same coin will show strong details in the wreath on the opposite side of the coin. Perhaps the obverse die face was slightly out of parallel with the reverse die face.
In any event, this is a great date in a very popular series.