1905-O 50C (Regular Strike)
Series: Barber Half Dollars 1892-1915
PCGS MS68
Designer:

Charles E. Barber
Diameter:

30.00 millimeters
Metal:

90% Silver, 10% Copper
Current Auctions - PCGS Graded
Current Auctions - NGC Graded
For Sale Now at
Collectors Corner - PCGS Graded
For Sale Now at
Collectors Corner - NGC Graded
Rarity and Survival Estimates

Learn More
Survival Estimate

All Grades
1,500
60 or Better
300
65 or Better
70
Numismatic Rarity

All Grades
R-4.8
60 or Better
R-6.4
65 or Better
R-8.3
Relative Rarity By Type

All Specs in this Type
All Grades
11 / 74 TIE
60 or Better
38 / 74 TIE
65 or Better
44 / 74 TIE
Relative Rarity By Series

All Specs in this Series
All Grades
11 / 74 TIE
60 or Better
38 / 74 TIE
65 or Better
44 / 74 TIE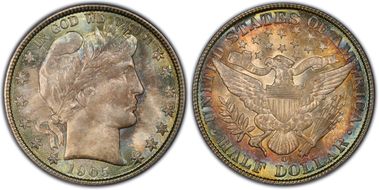 #1 MS68 PCGS grade

Paramount "Auction '86" 7/1986:1697 - David Akers, sold privately on 6/15/1992 - Dr. & Mrs. Steven L. Duckor Collection - Heritage 8/2010:3213, $63,250 - Greensboro Collection, Part VI - Heritage 10/2015:3298, $54,050
#1 MS68 PCGS grade

New Orleans Mint - John M. Clapp Collection - John H. Clapp Collection, sold intact in 1942 - Louis E. Eliasberg, Sr. Collection - Bowers & Merena 4/1997:2104, $33,000 - Heritage 1/2015:4145, $56,400
#3 MS67 PCGS grade

Superior - Dale Friend Collection - Heritage 1/2010:3896 - Joseph C. Thomas Collection - Heritage 1/2011:5581 - Joseph O'Connor, sold privately in 1/2011 - Eugene H. Gardner Collection, Part II - Heritage 10/2014:98558, $16,450
#3 MS67 PCGS grade

John C. Hugon - Heritage 1/2005:4239, $15,525
#5 MS67 estimated grade
#6 MS66+ PCGS grade

Harry Laibstain, sold privately on 7/26/2003 - Dr. Peter & Janice Shireman Collection - Heritage 1/2016:4128, $8,812.50
#7 MS66 PCGS grade

Heritage 11/2004:7501, $7,187.50
#7 MS66 PCGS grade
#7 MS66 PCGS grade
#7 MS66 PCGS grade
Ron Guth
:
The 1905-O Half Dollar has a small mintage but it is only semi-scarce at best and it is actually quite plentiful in Mint State. MS63 and MS64 are the grades that a collector is most likely to encounter, but there are also some fabulous Gem and Superb examples for those that seek top quality. The Dr. Wynsen example that Akers mentioned below went through a number of hands (Dale Friend, Joseph C. Thomas, and Eugene Gardner) and it last sold as a PCGS MS67 for $16,450. The Eliasberg example sold again in 2015 as a PCGS MS68 for $56,400. The other PCGS MS68 (ex Duckor) sold for $54,050 in 2015.
As Akers noted, the 1905-O Half Dollars often suffer from a soft strike, but there are some well-struck examples that violate that rule.
David Akers: The 1905-O is one of the lowest mintage issues in the series; in fact, among all of the branch mint Barber Half Dollar issues, only the 1892-O had a lower mintage. Fortunately, a few extraordinary specimens have been saved; the 1905-O in the Eliasberg sale was nearly perfect, for example, and the Dr. Robert Wynsen specimen is also of exceptional quality. Most 1905-O Half Dollars, even those that might otherwise technically qualify as Gems, are poorly struck, often with mumps, and generally have substandard luster.