1909-O 10C (Regular Strike)
Series: Barber Dimes 1892-1916
PCGS MS67
Designer:

Charles E. Barber
Diameter:

17.90 millimeters
Metal:

90% Silver, 10% Copper
Current Auctions - PCGS Graded
Current Auctions - NGC Graded
For Sale Now at
Collectors Corner - PCGS Graded
For Sale Now at
Collectors Corner - NGC Graded
Rarity and Survival Estimates

Learn More
Survival Estimate

All Grades
10,000
60 or Better
350
65 or Better
100
Numismatic Rarity

All Grades
R-3.0
60 or Better
R-6.3
65 or Better
R-8.0
Relative Rarity By Type

All Specs in this Type
All Grades
39 / 76 TIE
60 or Better
33 / 76
65 or Better
35 / 76 TIE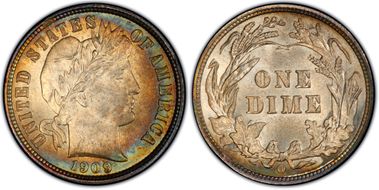 #1 MS67 PCGS grade

Bob R. Simpson Collection - Legend Rare Coin Auctions 12/2014:115, $13,512.50 - Stack's/Bowers 11/2015:20044, not sold
#1 MS67 PCGS grade
#1 MS67 PCGS grade
#4 MS66+ PCGS grade

Lily Nicole Collection - Heritage 4/2015:3958, $3,290
#4 MS66+ PCGS grade
#4 MS66+ PCGS grade
#7 MS66 PCGS grade
#7 MS66 PCGS grade
#7 MS66 PCGS grade
#7 MS66 PCGS grade
Ron Guth
:
The 1909-O Dime is an underrated date in the Barber Dime series. For example, 1909-O has a smaller number of certified Mint State examples than the 1909-D, yet the 1909-O is almost invariably priced lower then the 1909-D. It should be the other way around.
Mint State 1909-O Dimes are not too difficult to find. A couple dozen examples have been certified by PCGS in each grade from MS62 to MS64. Even MS65 and MS66 examples can be found with ease; at least a dozen, if not more, are known in each of those grades. The real challenge is to find anything better than MS66; only a few examples are known in MS66+ and MS67
The depth of the strike can be problematic on 1909-O Dimes. Look for strong lettering on all of the obverse lettering, on the lower wreath just right of the bow, and on the grains at the top of the right side of the wreath.