1913-S 50C (Regular Strike)
Series: Barber Half Dollars 1892-1915
PCGS MS67
Designer:

Charles E. Barber
Diameter:

30.00 millimeters
Metal:

90% Silver, 10% Copper
Current Auctions - PCGS Graded
Current Auctions - NGC Graded
For Sale Now at
Collectors Corner - PCGS Graded
For Sale Now at
Collectors Corner - NGC Graded
Rarity and Survival Estimates

Learn More
Survival Estimate

All Grades
2,500
60 or Better
250
65 or Better
100
Numismatic Rarity

All Grades
R-4.5
60 or Better
R-6.6
65 or Better
R-8.0
Relative Rarity By Type

All Specs in this Type
All Grades
30 / 74 TIE
60 or Better
28 / 74 TIE
65 or Better
51 / 74 TIE
Relative Rarity By Series

All Specs in this Series
All Grades
30 / 74 TIE
60 or Better
28 / 74 TIE
65 or Better
51 / 74 TIE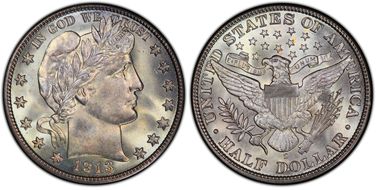 #1 MS67 PCGS grade

Dale Friend, sold privately in 9/2004 - Dr. & Mrs. Steven L. Duckor Collection - Heritage 8/2010:3240, $43,125 - Greensboro Collection, Part VI - Heritage 10/2015:3316, $21,150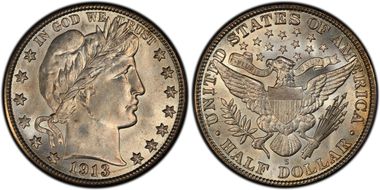 #2 MS66+ PCGS grade

Heritage 9/2015:3956, $12,925 - Heritage 4/2016:4676, $8,355.43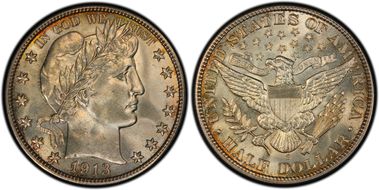 #3 MS66 PCGS grade

Dr. Peter & Janice Shireman Collection - Heritage 1/2016:4156, $7,637.50 - "Srotag Complete Barber Collection" (PCGS Set Registry)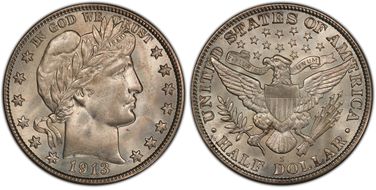 #3 MS66 PCGS grade

Dr. Thaine B. Price Collection - David Akers 5/1998:191, $14,300 - John C. Hugon Collection - Heritage 1/2005:4266 - Heritage 2/2011:3750 - Eugene H. Gardner Collection - Heritage 6/2014:30571, $15,275
#3 MS66 PCGS grade

Heritage 5/2009:823, $10,350
#3 MS66 PCGS grade
#3 MS66 PCGS grade
#3 MS66 PCGS grade
#9 MS65+ PCGS grade

"Laxdive" Collection (PCGS Set Registry)
#10 MS65 PCGS grade

U.S. Coins - Dale Friend - Heritage 1/2009:2966, $3,737.50
Ron Guth
:
The 1913-S Half Dollar is a semi-scarce date. In Mint State, it is ever-so-slightly more common than the 1913-P, but it is much less common than the 1913-D. As with most Barber Half Dollars, the 1913-S is most apt to be seen in MS63 and MS64. Gems are rare, with the low end of the PCGS CoinFacts Condition Census starting at MS65 to MS65+ then terminating on the high side with a single PCGS MS67 (that being the remarkable Friend-Duckor-Greensboro Collection coin illustrated above).
The 1913-S usually shows softness of strike on Liberty's lips, the upper right corner of the shield, and the adjacent feathers. Fully struck examples may not exist, but, if they do, they should be worth a substantial premium.
David Akers: The 1913-S Barber Half Dollar is very scarce in mint state and moderately rare in Gem condition. However, it is more available at this grade level than the other two Half Dollar issues of the year, the 1913 and 1913-D.