1920-S 50C (Regular Strike)
Series: Walking Liberty Half Dollars 1916-1947
PCGS MS66+
Designer:

Adolph Alexander Weinman
Diameter:

30.00 millimeters
Metal:

90% Silver, 10% Copper
Current Auctions - PCGS Graded
Current Auctions - NGC Graded
For Sale Now at
Collectors Corner - PCGS Graded
For Sale Now at
Collectors Corner - NGC Graded
Rarity and Survival Estimates

Learn More
Survival Estimate

All Grades
225,000
60 or Better
750
65 or Better
80
Numismatic Rarity

All Grades
R-1.8
60 or Better
R-5.5
65 or Better
R-8.2
Relative Rarity By Type

All Specs in this Type
All Grades
35 / 66 TIE
60 or Better
7 / 66 TIE
65 or Better
8 / 66 TIE
Relative Rarity By Series

All Specs in this Series
All Grades
35 / 66 TIE
60 or Better
7 / 66 TIE
65 or Better
8 / 66 TIE
#1 MS66 PCGS grade

Gerald R Forsythe Collection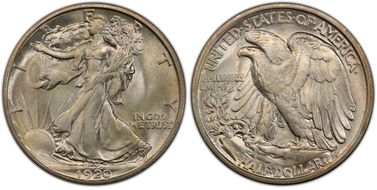 #1 MS66 PCGS grade

Legend Numismatics, sold privately in 9/2011 - Eugene H. Gardner Collection, Part II - Heritage 10/2014:98579, $44,062.50 - Steven L. Duckor Collection - Heritage 1/2018:4879, $60,000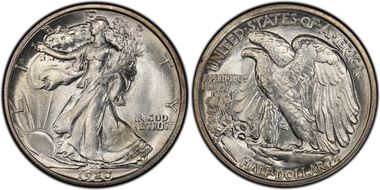 #1 MS66 PCGS grade

Heritage 4/2015:5110, $56,400
#1 MS66 PCGS grade
#1 MS66 PCGS grade
#1 MS66 PCGS grade
#1 MS66 PCGS grade
#1 MS66 PCGS grade
#1 MS66 estimated grade
#1 MS66 estimated grade
Jim Halperin: James Bennett Pryor collected U.S. half dollars as a lifelong passion and he indeed succeeded in putting together a complete 1794 to date set in fabulous condition. Along the way he had acquired an original roll of 1892-S Barber half dollars, which he sold to me in the mid 1970s, and two original rolls of 1920-S half dollars. He sold me the 1920-S half dollars in the late 1970s. They were frosty original coins that would grade MS64 to MS66 today, maybe even MS67 for the best one. It was an amazing deal and the only "quantity" deal of this rare early Walking Liberty half dollar I have ever seen or heard of.


David Hall
:
The 1920-S Walking Liberty half dollar is relatively available in the lower circulated grades (G to VG), but is scarce in higher circulated grades. Like all early Walkers, this issue is rare in mint state as very few examples were saved at the time of issue. It is comparable in rarity in both mint state and Gem condition to the 1920-D, 1923-S, and 1928-S...rare coins all. While not as rare in choice condition as the 1921-S and 1919-D and a few others, the 1920-S is definitely a key date in the series in top condition. Many of the surviving Gem examples come from a 40 piece mini-hoard found by half dollar specialist James Bennett Pryor and sold to dealer Jim Halperin in the late 1970s.
The typical mint state 1920-S has soft frosty luster and/or some degree of golden toning. You would want to avoid the overly dark examples. As is the case with many S-Mints in this series, strike can be a problem, with weak detail of Ms. Liberty's left hand being common.