1922 50C Grant Star (Regular Strike)
Series: Silver Commemoratives
PCGS MS67+
Designer:

Laura Gardin Fraser
Diameter:

30.60 millimeters
Metal:

90% Silver, 10% Copper
Current Auctions - PCGS Graded
Current Auctions - NGC Graded
For Sale Now at
Collectors Corner - PCGS Graded
For Sale Now at
Collectors Corner - NGC Graded
Rarity and Survival Estimates

Learn More
Survival Estimate

All Grades
3,450
60 or Better
2,875
65 or Better
2,200
Numismatic Rarity

All Grades
R-4.3
60 or Better
R-4.4
65 or Better
R-4.5
Relative Rarity By Type

All Specs in this Type
All Grades
17 / 144 TIE
60 or Better
14 / 144 TIE
65 or Better
41 / 144 TIE
Relative Rarity By Series

All Specs in this Series
All Grades
17 / 144 TIE
60 or Better
14 / 144 TIE
65 or Better
41 / 144 TIE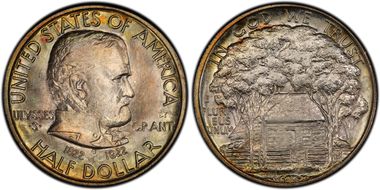 #1 MS67+ PCGS grade

"J & L 144 Complete Set" Collection (PCGS Set Registry)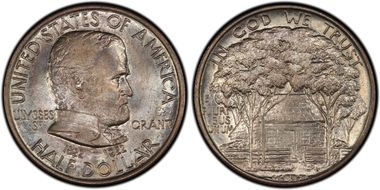 #2 MS67 PCGS grade

Heller Collection - Bowers & Merena 8/2010:647, $43,125 - Empire Collection - Heritage 1/2015:4445, $37,600 - Stack's/Bowers & Sotheby's 2/2016:251, not sold - Stack's/Bowers 4/2016:13242, $37,600 - Legend Rare Coin Auctions 1/2017:291, $42,300 - Heritage 8/2017:4230, $42,300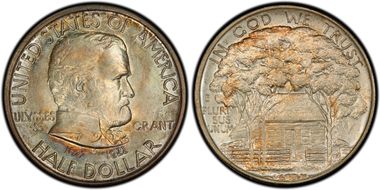 #2 MS67 PCGS grade
#2 MS67 PCGS grade
#2 MS67 PCGS grade
#6 MS66+ PCGS grade
#6 MS66+ PCGS grade
#6 MS66+ PCGS grade
#6 MS66+ PCGS grade
#6 MS66+ PCGS grade
David Hall
:
The 1922 Grant half dollar is one of the earlier issues in the classic era (1892-1954) silver commemorative series. Like most of the early issues, the Grant is much scarcer in Gem condition than the later (post-1930) issues. Interestingly, the are two varieties of the Grant half dollar. The more common variety (original mintage of 67,405 coins) does not have a star in the obverse field and the rarer variety (original mintage of just 4256 coins) has a large star stamped into the right obverse field. The reason for the star was apparently to create a rarer variety and stimulate sales, though the "real reason" for the addition of the basically meaningless star is somewhat cloudy.
Whatever the reason for its existence, the Grant with star half dollar has long been considered one of the key rarities to the silver commemorative series. It has also been one of the most expensive coins in the series consistently over the past 50 to 60 years. And indeed, the Grant with star is a rare coin in any grade and a very rare coin in Gem condition.
The typical Grant with star has more satiny than frosty luster. Strike on Grant's hair can be problematic. And of course, toning can either add or subtract from eye appeal.