1924-S $20 (Regular Strike)
Series: St. Gaudens $20 1907-1933
PCGS MS67
Designer:

Augustus Saint Gaudens
Diameter:

34.00 millimeters
Metal:

90% Gold, 10% Copper
Current Auctions - PCGS Graded
Current Auctions - NGC Graded
For Sale Now at
Collectors Corner - PCGS Graded
For Sale Now at
Collectors Corner - NGC Graded
Rarity and Survival Estimates

Learn More
Survival Estimate

All Grades
975
60 or Better
700
65 or Better
10
Numismatic Rarity

All Grades
R-5.0
60 or Better
R-5.6
65 or Better
R-9.5
Relative Rarity By Type

All Specs in this Type
All Grades
14 / 49
60 or Better
13 / 49 TIE
65 or Better
8 / 49 TIE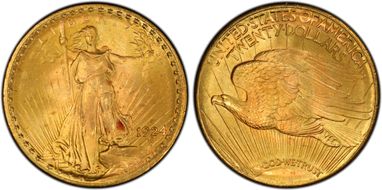 #1 MS67 PCGS grade

James Kelly, sold privately in the 1940s for $2,200 - "Mr. Lima" - David Akers, sold privately in 1989 - Dr. Thaine Price Collection - David Akers 5/1998:107, $187,000 - Simpson Collection
#2 MS65 PCGS grade

Heritage 8/1998:7951, $33,350 - Phillip H. Morse Collection - Heritage 11/2005:6671, $97,750 - Dr. & Mrs. Steven Duckor Collection - Heritage 1/2012:4637, $172,500 - High Desert Collection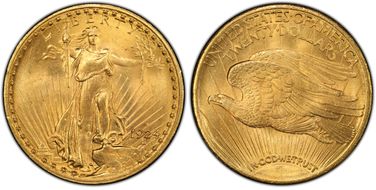 #2 MS65 PCGS grade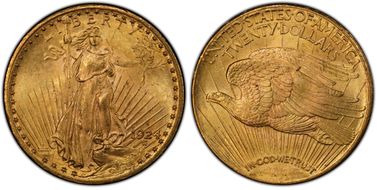 #2 MS65 PCGS grade

Heritage 7/2018:3291, $90,000 - Blue Ox Collection V (PCGS Set Registry)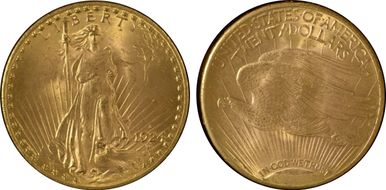 #2 MS65 PCGS grade
#2 MS65 estimated grade

American Numismatic Rarities 8/2006:1759, $50,370
#7 MS64+ PCGS grade

Heritage 3/2013:4485, $44,062.50
#7 MS64+ PCGS grade

Bella Collection (PCGS Set Registry)
#9 MS64 PCGS grade
#9 MS64 PCGS grade
David Akers (1975/88)
:
Prior to the early 1950's, the 1924-S was generally considered to be one of the rarest of all Saint-Gaudens Double Eagles, if not the rarest. In particular the 1924-S was widely thought to be far more rare than the 1927-D and only the 1926-D was talked about in the same reverent tones. (The 1922-S, 1925-D, 1925-S, 1926-S, and 1927-S were also considered great rarities at that time. Surprisingly, in the 1940'S, the 1920-S, 1931 and 1932, now highly regarded dates, were not put in the same rarity class with any of the foregoing issues.) Most of the great sales of the 1940'S (Dunham, Bell, Flanagan, Atwater, World's Greatest etc.) were all missing this date and the first appearance of a 1924-S at auction occurred at the 1947 Buffalo ANA where the C. David Pierce specimen brought a phenominal $2250. Dr. Green's coin was sold at auction in 1949 and then the Menjou specimen brought $2000 in 1950. (In that sale, the cataloguers, Abe Kosoff and Abner Kreisberg, noted that the 1924-S was "The rarest of all Double Eagles; there are perhaps less than 5 extant.")
Until the 1950s it was thought that only five or six existed, but then a small quantity was found in Europe. later, in the mid-1960s, a hundred or more pieces came out of Europe. Virtually all known examples of this issue are heavily bagmarked MS-60 to 62 pieces, and even in MS-63 this is a very difficult issue to locate. true gems are known as well as a single MS-65+ piece, but there may be fewer than five such pieces total.
The 1924-S is typically well struck, but some specimens have a peculiar weakness in some of the letters (most often in LIBERTY), and many examples have "mounding" or die bulging just inside the rim that makes the stars seem raised. This issue also often has the very rounded, almost beveled rims that are characteristic of all the San Francisco double eagle issues of this decade. Lustre is generally good but not exceptional. The color is most often an attractive greenish gold and orange, although some deep yellow gold examples also exist.