1797 $10 Large Eagle (Regular Strike)
Series: Draped Bust $10 1795-1804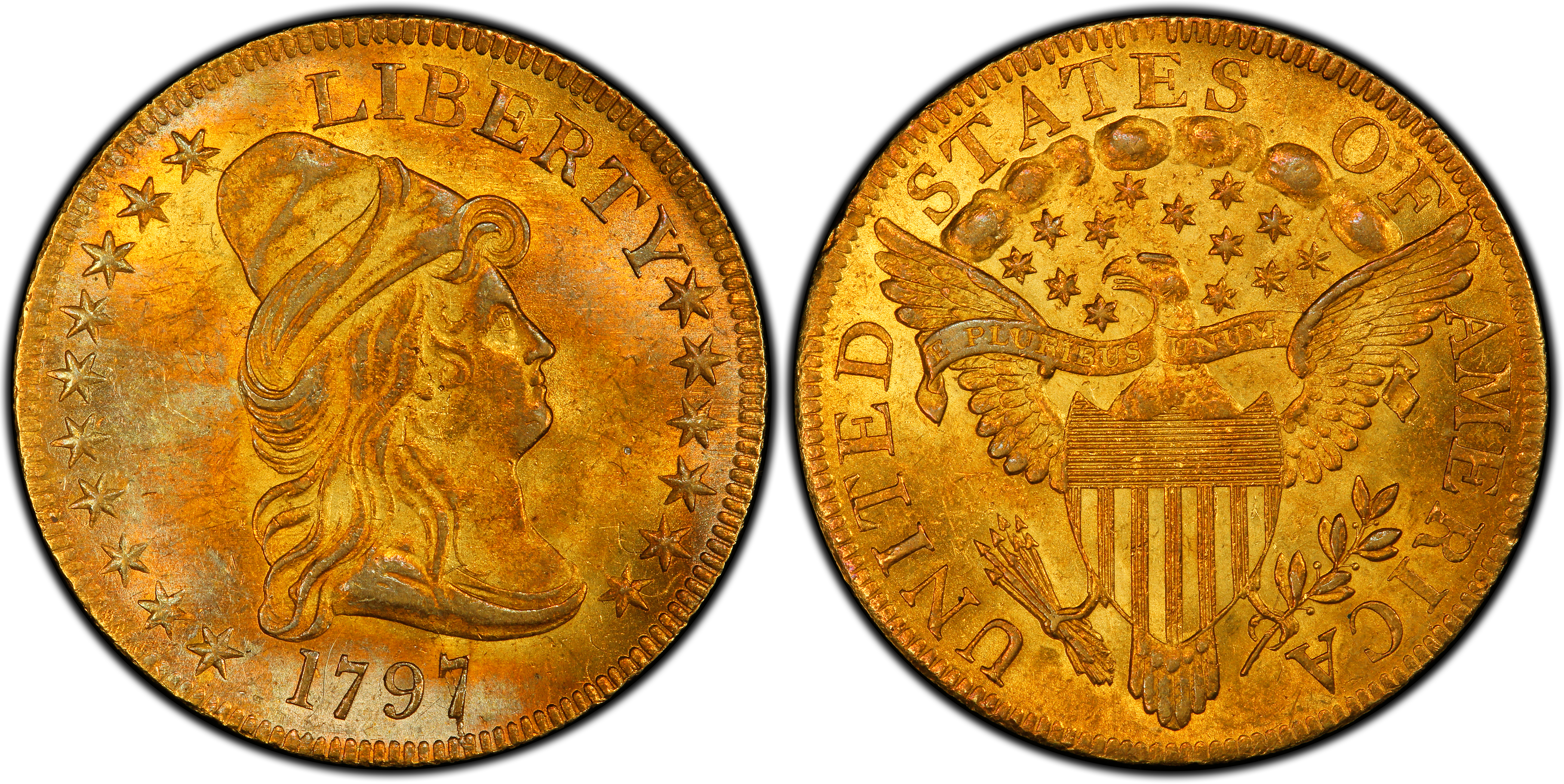 PCGS MS63+
Diameter:

33.00 millimeters
Metal:

91.7% Gold, 8.3% Copper
Current Auctions - PCGS Graded
Current Auctions - NGC Graded
For Sale Now at
Collectors Corner - PCGS Graded
For Sale Now at
Collectors Corner - NGC Graded
Rarity and Survival Estimates

Learn More
Survival Estimate

All Grades
250
60 or Better
50
65 or Better
Numismatic Rarity

All Grades
R-6.6
60 or Better
R-8.5
65 or Better
R-10.1
#1 MS63+ PCGS grade
#2 MS63 PCGS grade

RARCOA "Auction '81" 7/1981:456 - D. Brent Pogue Collection
#2 MS63 PCGS grade

New Orleans Collection - Heritage 4/2015:5381, $164,500
#2 MS63 PCGS grade
#2 MS63 estimated grade
#6 MS62+ PCGS grade
#7 MS62 PCGS grade
#7 MS62 PCGS grade
#7 MS62 PCGS grade
#7 MS62 PCGS grade
Ron Guth:
The 1797 $10 with a Heraldic Eagle (aka Large Eagle) reverse is a great, classic American coin with several things going for it:
1. The mintage is a mere 10,940 coins (that's a face value of only $109,400). 2 Quite a few nice, Uncirculated examples exist (we known of at least two dozen, including one in the National Numismatic Collection at the Smithsonian Institution). 3. It is the largest format gold coin of its time. Because of the high instrinsic value of this denomination, few of the people on the street ever saw one.
Three different die varieties make up the entire mintage of the 1797 Large Eagle $10's. All three varieties are scarce to rare, though the BD-2 appears to be the most common.
David Akers (1975/88):
The 1797 is the first year of the Heraldic Eagle type. It is not nearly as rare as either of the 1798 issues, the 1800 or the 1804 but it is considerably more rare than the 1799 or 1801 and also somewhat more difficult to obtain than the 1803. As is typical of the early Eagles, known specimens seem fairly well spread out over VF, EF, and AU grades. There are also a number of uncirculated examples known, most of which are characterized by their superior reverses and not-so-great obverses. Most specimens have a vertical die crack through the second 7 of the date.