1797 $10 Small Eagle (Regular Strike)
Series: Draped Bust $10 1795-1804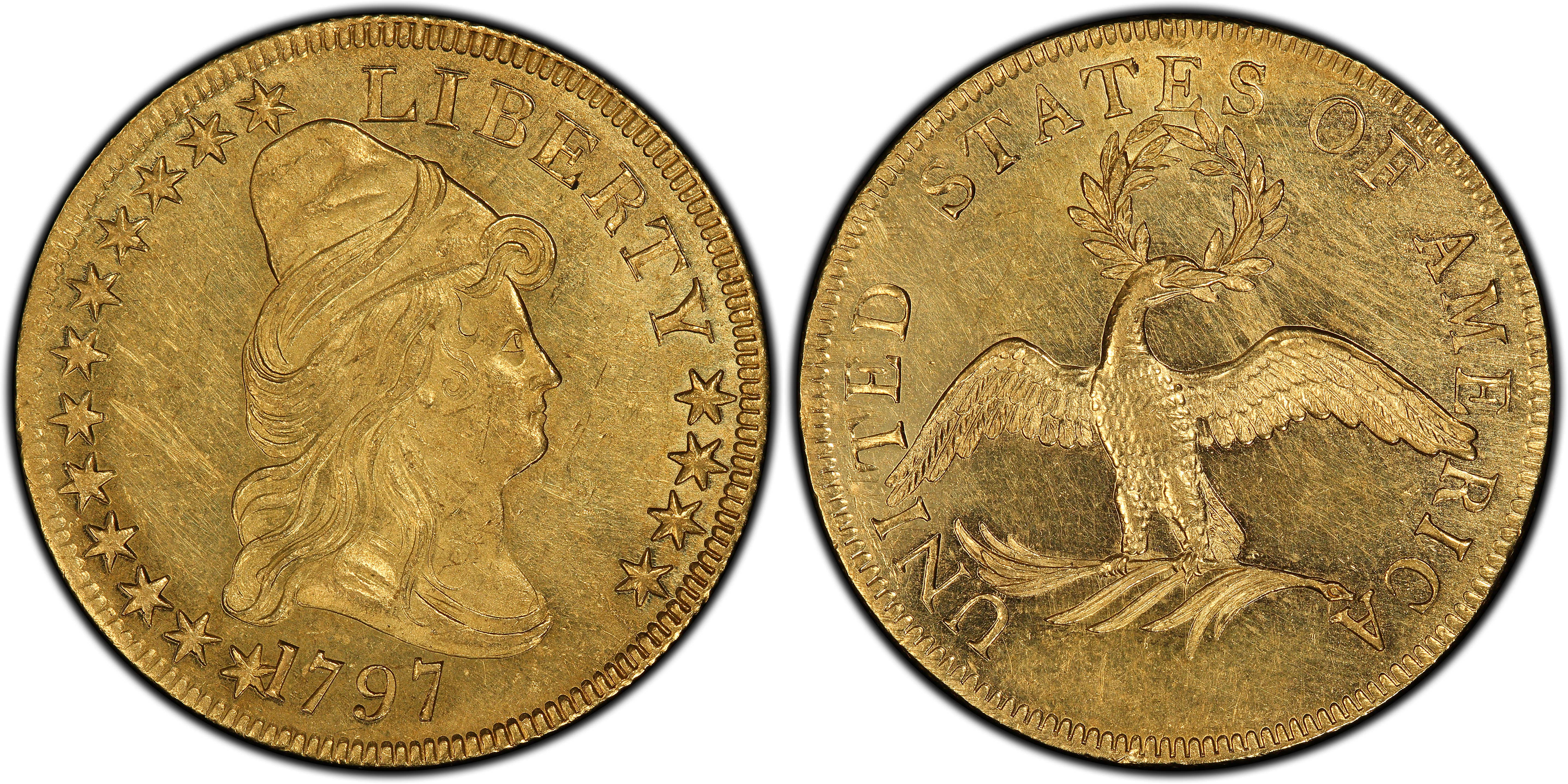 PCGS MS61
Diameter:

33.00 millimeters
Metal:

91.7% Gold, 8.3% Copper
Current Auctions - PCGS Graded
Current Auctions - NGC Graded
For Sale Now at
Collectors Corner - PCGS Graded
For Sale Now at
Collectors Corner - NGC Graded
Rarity and Survival Estimates

Learn More
Survival Estimate

All Grades
60
60 or Better
5
65 or Better
Numismatic Rarity

All Grades
R-8.4
60 or Better
R-9.7
65 or Better
R-10.1
#1 MS62 estimated grade

Belden Roach Collection - B. Max Mehl 2/1944:309 - Amon Carter, Sr. - Amon Carter, Jr. - Stack's 1/1984:730 - Goldbergs 5/2007:1643, $448,500 - Ohringer Family Trust Collection - Goldbergs 9/2008:1272 - Goldbergs 2/2009:1521 - Goldbergs 5/2009:1324 - Goldbergs 9/2010:2962 - Goldbergs 1/2011:2174 (plate-matched to the following) - Heritage 1/2013:5897, $293,750
#1 MS61 PCGS grade

Goliad Corporation (Mike Brownlee), sold privately in 9/1978 - D. Brent Pogue Collection - Stack's/Bowers & Sotheby's 9/2015:2094 (as PCGS MS61 31529827), $440,625
#1 MS61 PCGS grade
#4 MS61 estimated grade

NERCA 7/29/1979:281, $26,000 (tentative based on plate-matching) - Heritage 1/2004:3054, $126,500
#5 MS60 PCGS grade
#5 MS60 PCGS grade
#7 AU58 PCGS grade
#7 AU58 PCGS grade
#7 AU58 PCGS grade
#7 AU58 PCGS grade
Ron Guth:
Ten Dollar Gold coins (or "Eagles") were produced by the U.S. Mint beginning in 1795. Initially, the coins bore fifteen stars, one for each of the United States (Vermont and Kentucky had been admitted to the original thirteen). In 1796, the number of stars rose to sixteen following the admission of Tennessee into the Union. Unfortunately, the increased number of stars forced unusual demands on the engravers; i.e. how to fit the stars neatly into the dies. A neat arrangement of 8 stars on the left and 8 stars on the right appeared on the 1796 Eagle, made possible by moving the word "LIBERTY" farther to the left over and above Miss Liberty's turban. However, in 1797, the engravers moved the word LIBERTY back to its original position (in front of the cap), leaving insufficient space on the right side of the coin for eight stars. On this variety in particular, we see an unusual (and unique) arrangement of twelve stars crowded on the left side and only four on the right! Many examples of this variety exhibit a die crack on the obverse from the edge just beyond the sixteenth star. It is entirely possible that this unusual arrangement occurred when the engraver noticed the die beginning to crack right where he wanted to place his final star, forcing him to relocate it just to the left of the date. In 1798, the Mint decided to revert back to 13 stars and, in 1799, settled finally on an arrangement of 8 stars on the left side and 5 on the right.
David Akers (1975/88): This is the last issue of this short-lived Small Eagle type and it is decidedly the rarest of the three. From the number of auction appearances one could reasonably conclude that the 1797 Small Eagle is nearly twice as rare as the 1796 and almost four times as rare as the 1795. These ratios coincide with my own experience and I feel that this is one of the most underrated of the early (1795-1804) Eagles. In fact, only the well known rarity, the 1798/7, 7x6 Stars, had fewer auction appearances in my survey.

Known specimens seem fairly evenly spread between the VF, EF, and AU grades and a few strictly uncirculated specimens are also known. Most, if not all, 1797 Eagles of this type have a die break in the field below the last (16th) star.