1808 $2.50 (Regular Strike)
Series: Capped Bust $2 1/2 1808-1834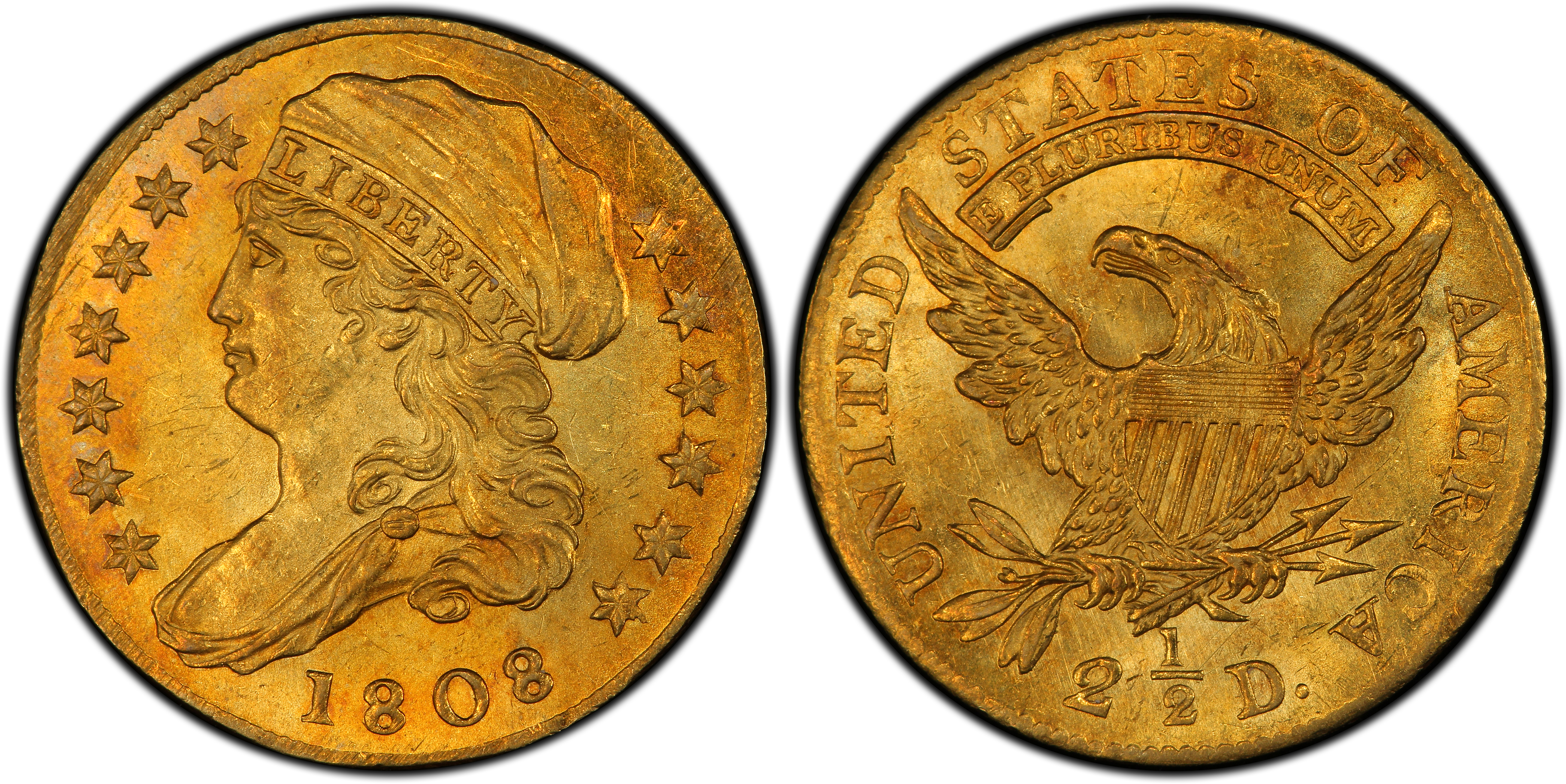 PCGS MS65
Diameter:

20.00 millimeters
Metal:

91.7% Gold, 8.3% Copper
Current Auctions - PCGS Graded
Current Auctions - NGC Graded
For Sale Now at
Collectors Corner - PCGS Graded
For Sale Now at
Collectors Corner - NGC Graded
Rarity and Survival Estimates

Learn More
Survival Estimate

All Grades
132
60 or Better
9
65 or Better
1
Numismatic Rarity

All Grades
R-7.6
60 or Better
R-9.6
65 or Better
R-10.0
Relative Rarity By Series

All Specs in this Series
All Grades
10 / 12 TIE
60 or Better
2 / 12 TIE
65 or Better
1 / 12 TIE
#1 MS65 PCGS grade

Lorin G. Parmelee Collection - New York Coin & Stamp 6/1890:856 - John Story Jenks Collection - Henry Chapman 12/1921:5792 - Col. E.H.R. Green Collection - J. Hewitt Judd Collection - Dr. Herbert Ketterman Collection - Jimmy Hayes Collection - Stack's "Auction'84" 7/1984:1372, $99,000 - David Akers "Auction'89" 7/1989:1361, $231,000 - D. Brent Pogue Collection - Stack's/Bowers & Sotheby's 5/2015:1128, $2,350,000
#2 MS63 PCGS grade

Oliver Jung Collection - American Numismatic Rarities 7/2004:84, $325,000 - Stack's 3/2007:1441, $425,500 -Stack's 11/2008:4176, $517,500
#2 MS63 estimated grade
#4 MS62 PCGS grade

Freedom Collection - Heritage 1/2007:3392, $287,500 - Madison Collection - Heritage 1/2008:3069, $322,000 -Heritage 4/2009:2672, unsold
#4 MS62 PCGS grade

Heritage 7/1993:7288, $33,000
#4 MS62 PCGS grade
#4 MS62 estimated grade

Bowers & Merena 11/2010:4781 (as NGC MS63), $316,250
#4 MS62 estimated grade
#4 MS62 estimated grade
#10 MS61 PCGS grade
Ron Guth:
Well, the finest known 1808 Quarter Eagle, referenced below by both P. Scott Rubin and David Akers, made an appearance as the highlight of the first session of the D. Brent Pogue Collection on May 19, 2015. It sold for $2,350,000, adding the 1808 Quarter Eagle to the Million Dollar Coin Club. Unlike in 1972, 1984, and 1989, it was possible for anyone with an Internet connection and a computer monitor to view the video and hear the audio of the actual auction as it took place in 2015. The trajectory of this particular coin has been remarkable. It remains one of the most important pieces of early American numismatic history.
P. Scott Rubin: The 1808 Quarter Eagle is a rare coin with a recorded mintage of only 2,710 coins. This is also a one-year-only type coin which makes it highly desirable for anyone collecting United States gold coinage. Much of what noted gold expert David Akers has said about this coin is still true today.

What has been left out of Mr. Akers' information is his connection to the finest known specimen. The PCGS graded MS65 coin is the Col. Green – Dr. Hewitt Judd coin. This coin is finer than any other known 1808 Quarter Eagle. According to Mr. Akers, that coin was available privately during the 1972 ANA convention for the sum of $12,000. The next appearance of this coin after 1972 is the Stack's offering in Auction'84 (lot 1372) where it brought $99,000. The last time this coin appeared on the market was in Auction'89 as lot 1361, where it was offered by David Akers and it sold for $231,000.

In 1989, Akers gave the pedigree of this finest known 1808 Quarter Eagle as: Col. Green, J. Hewitt Judd, Herbert Ketterman, Jimmy Hayes, Auction'84, Auction'89. This coin was graded MS-64 by Akers at its last auction appearance.

David Akers (1975/88): Although not the great rarity it is sometimes made out to be, the 1808 quarter eagle can certainly be considered to be rare, particularly in high grade. Because this is a one-year-only type, it is also unquestionably one of the most popular U.S. gold coins, and therefore, generally brings proportionally higher prices than other dates that are less rare but also less desirable. As the data clearly indicates, most available specimens are in the very fine to extremely fine range. The majority of pieces that I have seen also have edge nicks or rim bruises to some extent, and although most examples of this date are fairly well struck on the figure of Liberty and on the eagle, they are also weakly struck at the borders. Typically, the stars are flat and there are no denticles visible. I have only seen one truly choice mint state example, that being the superb coin from the Dr. J. Hewitt Judd Collection. I examined the coin (and was offered it for sale as were several other dealers and prominent collectors) at the 1972 ANA Convention in New Orleans. To my regret, I passed on the piece ar a price in the $12,000 range. The price seemed high at the time, but it would certainly be an incredible bargain today.