1831 25C Small Letters (Regular Strike)
Series: Capped Bust Quarters 1815-1838
PCGS MS66+
Diameter:

24.30 millimeters
Metal:

89.2% Silver, 10.8% Copper
Current Auctions - PCGS Graded
Current Auctions - NGC Graded
For Sale Now at
Collectors Corner - PCGS Graded
For Sale Now at
Collectors Corner - NGC Graded
Rarity and Survival Estimates

Learn More
Survival Estimate

All Grades
3,625
60 or Better
225
65 or Better
21
Numismatic Rarity

All Grades
R-4.2
60 or Better
R-6.7
65 or Better
R-9.0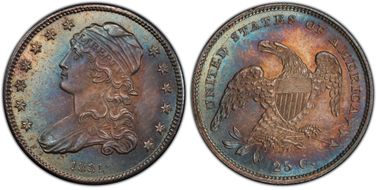 #1 MS66+ PCGS grade

Goldbergs 6/2014:393, $49,350 - Goldbergs 9/2015:999, $49,350 - Heritage 1/2017:5600, $37,600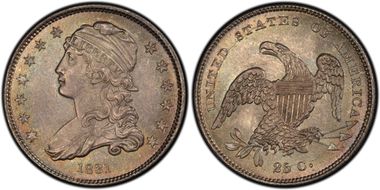 #1 MS66 PCGS grade

RARCOA "Auction '90" 8/1990:644 - Heritage 6/2006:1310, $46,000 - Joseph C. Thomas Collection - Heritage 4/2009:2328, $37,375 - Larry Hanks (as agent(?) - D. Brent Pogue Collection - Stack's/Bowers & Sotheby's 5/2015:1079, $35,250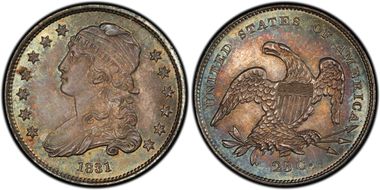 #1 MS66 PCGS grade

American Numismatic Rarities "Classics Sale" 3/2004:533, $36,800 - James W. Lull Collection - Bowers & Merena 1/2005:680, $41,400 - D. Brent Pogue Collection - Stack's/Bowers & Sotheby's 5/2015:1081, $55,812.50
#1 MS66 PCGS grade

Bob R. Simpson Collection
#1 MS66 PCGS grade

Craig M. Morgan, M.D. Collection - Bowers & Merena 11/1998:110, $17,250 - Eugene H. Gardner Collection - Heritage 6/2014:30352, $47,000
#1 MS66 estimated grade

"Colonel" E.H.R. Green Collection - Partnership of Eric P. Newman & Burdette G. Johnson (St. Louis Stamp & Coin Co.) - Eric P. Newman, who paid $3 - Eric P. Newman Numismatic Education Society - Heritage 11/2013:33349, $117,500
#8 MS65+ PCGS grade
#9 MS65 PCGS grade

Madison Collection - Heritage 1/2008:2781, $51,750 - D. Brent Pogue Collection - Stack's/Bowers & Sotheby's 5/2015:1080, $39,656.25
#9 MS65 PCGS grade
#9 MS65 PCGS grade
In 1831, four obverses and five reverses were combined for seven Capped Bust Quarter die pairs. These seven are generally grouped according to the size of the letters in the reverse legend, with Browning 1 through 4 known as "Small Letters", and Browning 5 through 7 known as "Large Letters". However, there is much more to the story than suggested by this simple and traditional Small vs. Large classification.
1831 is the first year of issue for the Capped Bust, "Small Size" Quarter type. And after a two year break, it appears that the resumption of the quarter denomination had a little trouble getting back to speed. Not only do we see the "Small" and "Large" letter sets, but a variety of number punches, including four different styles of "2" among the five reverses. Browning 1 shows a small, curl based 2, B-2 a small, flat based 2, B-3 and B-4 a "medium" sized square base 2, and B-5 through B-7 a large, curled base 2 that saw continued use through 1838.
With the exception of Browning 3, 1831 "Small Letters" Quarters are regularly available in upper Mint State grades. However, 1831 "Large Letters" Quarters are notably scarcer as a group, with Mint State examples likely to be B-5, and no surviving examples of B-7 known above the circulated grades.
Gordon Wrubel: Quickfinder Notes: 1831 was the year of transition to the new close collar reduced diameter (24mm versus 28mm) quarter coinage. In order to get the best striking results from his design, William Kneass tried two different letter sizes for the reverse die. The Small Letter reverse can be distinguished not only by their smaller size, as they are about as WIDE as they are TALL. The letters are also noticeably FARTHER AWAY from the rim than the Large Letter variety. The Large Letters appear to be TALLER than they are WIDE and are placed CLOSER to the rim. In total population, the Small Letter variety is about five times more common than the Large Letter variety. The Mint State population difference is even more striking with about eight times as many examples graded than the Large Letter variety.