1856-S $3 (Regular Strike)
Series: Indian Princess $3 1854-1889
PCGS MS64
Designer:

James Barton Longacre
Diameter:

20.50 millimeters
Metal:

90% Gold, 10% Copper
Current Auctions - PCGS Graded
Current Auctions - NGC Graded
For Sale Now at
Collectors Corner - PCGS Graded
For Sale Now at
Collectors Corner - NGC Graded
Rarity and Survival Estimates

Learn More
Survival Estimate

All Grades
2,500
60 or Better
20
65 or Better
Numismatic Rarity

All Grades
R-4.5
60 or Better
R-9.1
65 or Better
R-10.1
Relative Rarity By Type

All Specs in this Type
All Grades
36 / 41 TIE
60 or Better
7 / 41 TIE
65 or Better
1 / 41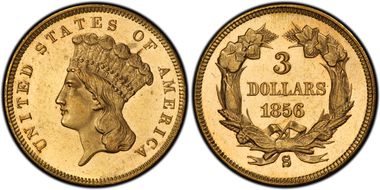 #1 MS64 PCGS grade

Great Lakes Collection - Hanks & Associates, sold privately as an entire collection in 10/2005 - D. Brent Pogue Collection - Stack's/Bowers & Sotheby's 2/2016:3095, $54,050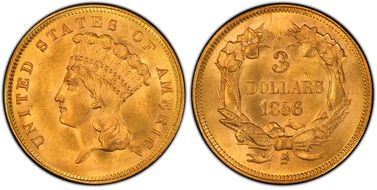 #1 MS64 PCGS grade

South Texas Collection $3.00 Gold Collection
#1 MS64 PCGS grade

Superior, sold privately in 3/1978 - Harry W. Bass, Jr. Collection - Bowers & Merena 10/1999:658, $34,500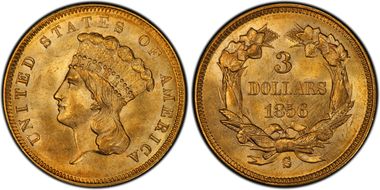 #4 MS63 PCGS grade

Bob R. Simpson Collection
#4 MS63 PCGS grade
#4 MS63 PCGS grade
#4 MS63 estimated grade

Richard C. Jewell Collection - American Numismatic Rarities 3/2005:616, $43,700 - Ohringer Family Trust Holdings - Goldbergs 9/2008:1233, $43,700
#4 MS62 PCGS grade
#4 MS62 PCGS grade
#4 MS62 estimated grade
Ron Guth
:
The San Francisco Mint produced Three-Dollar gold pieces in four years. Of those four, the 1856-S has the largest mintage. However, at 34,500 coins, this is a puny amount by any standard, certainly in comparison to the multi-million and billion coin mintages of today.
The mintmarks on the 1856-S Three-Dollar gold pieces come in three different sizes: Small, Medium, and Large. According to Q. David Bowers and Doug Winter, 80% are of the Medium Mintmark variety, 2-3% are of the Large Mintmark variety, and approximately 15% are of the Small Mintmark variety. The Medium and Large Mintmarks are very difficult to tell apart; the Small S is clearly smaller than any other.
Mint State 1856-S Three-Dollar gold pieces are very rare, with perhaps 10-20 known (we know of roughly ten demonstrably different examples. The best appear to be a trio of PCGS MS64's.
David Akers (1975/88): The 1856-S has the fifth highest mintage of the series and, not surprisingly, the fifth greatest number of auction records in our 238 catalogue auction survey. However, the overwhelming majority of those records are for low grade specimens (116 out of 177 were VF or less) and, indeed, the 1856-S is very difficult to obtain better then EF. In fact, this date is ranked third overall in rarity according to average grade, although it is more obtainable in unc. than the 1854-D, 1865, or the other S Mint three dolalr gold pieces. There are three different size mintmarks on the 1856-S, small, medium, and large. The small S is the same size as on the 1860-S while the large S is the same as on the 1855-S and 1857-S. The most common of the three varieties is the Medium S variety and both the Large S and Small S varieties are rare in any condition.