1873-CC $10 (Regular Strike)
Series: Liberty Head $10 1838-1907
PCGS AU58
Designer:

Christian Gobrecht
Diameter:

26.80 millimeters
Metal:

90% Gold, 10% Copper
Current Auctions - PCGS Graded
Current Auctions - NGC Graded
For Sale Now at
Collectors Corner - PCGS Graded
For Sale Now at
Collectors Corner - NGC Graded
Rarity and Survival Estimates

Learn More
Survival Estimate

All Grades
78
60 or Better
65 or Better
Numismatic Rarity

All Grades
R-8.2
60 or Better
R-10.1
65 or Better
R-10.1
Relative Rarity By Type

All Specs in this Type
All Grades
18 / 117 TIE
60 or Better
1 / 117
65 or Better
1 / 117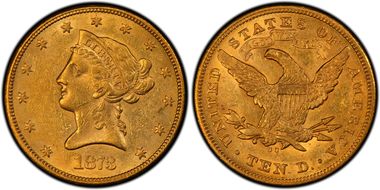 #1 AU58 PCGS grade

Northern California Collection
#2 AU55 PCGS grade
#3 AU53 PCGS grade

Donald E. Bently Collection - Heritage 3/2014:30379, $58,750
#3 AU53 PCGS grade

Harry W. Bass, Jr. Collection - Bowers & Merena 10/1999:1538, $32,200
#3 AU53 PCGS grade

Abner Kreisberg, 3/1968 - Harry W. Bass, Jr. Collection - Bowers & Merena 5/2000:681, $33,350
#3 AU53 PCGS grade
#3 AU53 PCGS grade
#3 AU53 estimated grade

Heritage 8/2009:1301 - Rusty Goe, 8/2009 - Battle Born Collection - Stack's/Bowers 8/2012:11023, $92,000
#9 AU50 PCGS grade

Plate coin in the first edition of Doug Winter's book on Carson City gold coinage. Warren Miller Collection - Heritage 10/95:6366, $13,750 - Doug Winter - Nevada Collection - Doug Winter - Orange County Collection - Doug Winter - Pinnacle Rarities - Old West Collection - American Numismatic Rarities 8/2006:1344, $32,200 - David Hall Collection (PCGS Set Registry) - Bob R. Simpson Collection
#9 AU50 PCGS grade
Doug Winter: With very few exceptions, all 1873-CC issues (in silver and gold) are quite rare and the 1873-CC eagle is no exception. I rank the 1873-CC as the third rarest Carson City eagle in overall rarity and it may actually be the single rarest in high grades. I doubt if more than a half dozen properly graded AU pieces exist and there are currently no 1873-CC eagles known that are even close to being Uncirculated. The single finest I am aware of is in an East Coast collection (it was acquired from me via private treaty in 2008) and it grades AU55 at PCGS. As with the 1870-CC, this date is rare because of two factors. A limited number were struck (just 4,543 in this case) and many saw active use in circulation (and were later melted). Survivors are apt to be heavily worn and even accurately graded EF's are quite scarce. This tends to be a decently produced issue in terms of strike but nearly all known examples have little or no luster, abraded surfaces and poor overall eye appeal.
David Akers (1975/88)
:
In overall rarity, the 1873-CC is comparable to the 1872-CC, 1875-CC and 1876-CC, and somewhat more rare than the 1871-CC, 1874-CC and 1877-CC. The typical 1873-CC is softly struck on the hair curls around Liberty's face. The 1873-CC is unknown in uncirculated condition.