1906 $20 J-1773 (Proof)
Series: Patterns - PR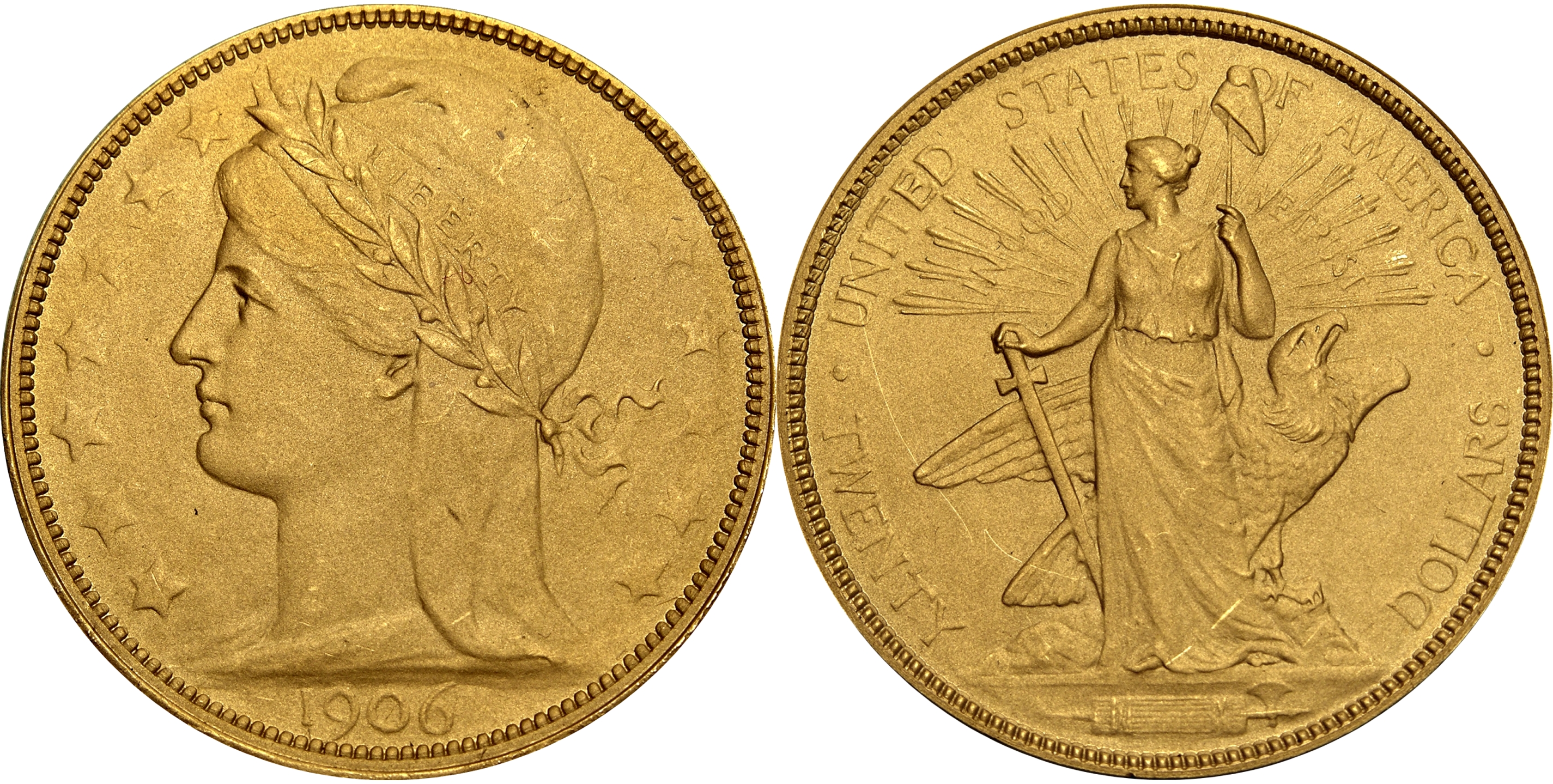 Image courtesy of the National Numismatic Collection at the Smithsonian Institution
Designer:

Charles E. Barber
Diameter:

34.00 millimeters
Metal:

90% Silver, 10% Copper
Current Auctions - PCGS Graded
Current Auctions - NGC Graded
For Sale Now at
Collectors Corner - PCGS Graded
For Sale Now at
Collectors Corner - NGC Graded
Rarity and Survival Estimates

Learn More
Survival Estimate

All Grades
1
60 or Better
1
65 or Better
Numismatic Rarity

All Grades
R-10.0
60 or Better
R-10.0
65 or Better
R-10.1
#1 PR63 estimated grade

Smithsonian
David Akers (1975/88): Description: Obverse. Head of Liberty facing left wearing a Liberty cap with LIBERTY inscribed on the band. An olive branch is also around the head and is tied by a ribbon. Seven flat stars are at the border in front of the face; behind the head are six others in equally low relief. Below the bust is the date, 1906. Reverse. Figure of Liberty standing, her head turned to her right. Her right hand rests on a sword and in her left she holds a pole with a Liberty cap on it. Behind the standing figure is a defiant eagle standing on a rock with its wings spread. Behind Miss Liberty's head are rays and the motto IN GOD WE TRUST; below her feet are fasces. At the lower left border is TWENTY; at the lower right, DOLLARS. Above the rays and around the border is the legend UNITED STATES OF AMERICA.

Comments: This outstanding design is probably Charles Barber's finest and was done at a time when Augustus Saint-Gaudens was already at work on new designs for the cent, eagle, and double eagle. The obverse bears a strong similarity to certain French coins and the head of Liberty is also reminiscent of the design that Barber's father and predecessor as Chief Engraver of the Mint, William Barber, used on the 1872 gold patterns.

Only one specimen was struck in gold and it is in the Mint Collection at the Smithsonian Institution.