1913 $20 (Regular Strike)
Series: St. Gaudens $20 1907-1933
PCGS MS65
Designer:

Augustus Saint Gaudens
Diameter:

34.00 millimeters
Metal:

90% Gold, 10% Copper
Current Auctions - PCGS Graded
Current Auctions - NGC Graded
For Sale Now at
Collectors Corner - PCGS Graded
For Sale Now at
Collectors Corner - NGC Graded
Rarity and Survival Estimates

Learn More
Survival Estimate

All Grades
17,000
60 or Better
8,666
65 or Better
27
Numismatic Rarity

All Grades
R-2.8
60 or Better
R-3.2
65 or Better
R-8.9
Relative Rarity By Type

All Specs in this Type
All Grades
28 / 49 TIE
60 or Better
27 / 49 TIE
65 or Better
14 / 49 TIE
Relative Rarity By Series

All Specs in this Series
All Grades
30 / 54 TIE
60 or Better
29 / 54 TIE
65 or Better
14 / 54 TIE
#1 MS65 PCGS grade

Fox Collection (PCGS Set Registry)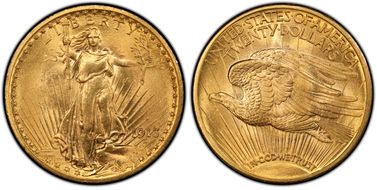 #1 MS65 PCGS grade

Heritage 8/2016:4385, $61,688 - D.L. Hansen Collection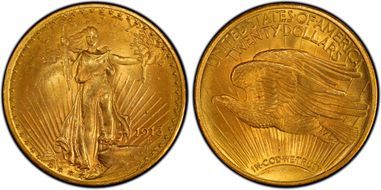 #1 MS65 PCGS grade

David Akers - Dr. & Mrs. Steven L. Duckor Collection - Heritage 1/2012:4619, $63,250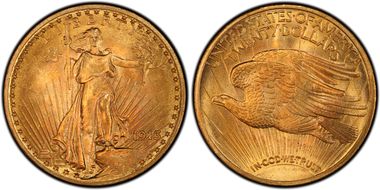 #1 MS65 PCGS grade

Bella Collection (PCGS Set Registry)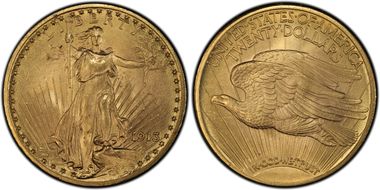 #1 MS65 PCGS grade
#1 MS65 PCGS grade

John Kutasi Collection - Heritage 1/2007:3277, $54,625 - Heritage 8/2007:2072, $46,000 - Heritage 7/2008:2098, $69,000 - Heritage 1/2010:2305, $53,188 - Heritage 1/2010:2305, $53,188
#1 MS65 PCGS grade
#1 MS65 PCGS grade

Heritage 1/2018:5177, $40,800 - Luna Collection (PCGS Set Registry)
#1 MS65 PCGS grade
#1 MS65 PCGS grade
David Akers (1975/88):
The 1913 is scarce, but hardly rare, in the low Mint State grades. In other words, a heavily bagmarked Mint State specimen is not very hard to find, but even at the MS-63 level the 1913 is decidedly rare. Above the choice level, however, the 1913 becomes one of the rarest issues of the series. One can find a gem 1931 or 1932, or even a 1927-S, 1930-S or 1931-D, more easily than one can find a gem 1913. Some prominent specialists in this field indicate that they have never seen a 1913 they would grade MS-65. I have seen several that I consider gems but it is possible that the few top quality specimens of this issue are downgraded by others due to their generally sub-standard overall appearance. As for finding something distinctly better than MS-65, forget it! I have never seen or even heard a rumor or "tall tale" about such a coin.
The 1913 is much less sharply struck than the 912 as a rule and many, if not most, have the "flat" look of the No Motto issues of 1907 and 1908. Lustre is also typically below average for the series, and the surfaces have a "soft" frosty texture, often with a noticeable granularity and metal flow. Color seems to be fairly uniform on this issue, a medium to rich greenish gold. Even in high grade, the 1913 certainly does not rank with the better looking issues of this type.